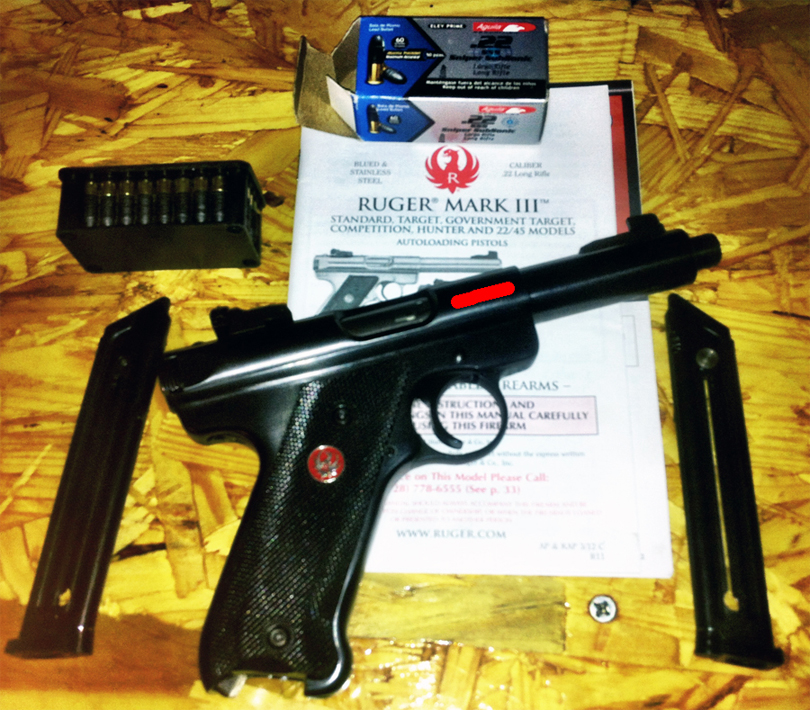 Picked up the Ruger MK III from the gun smith today.
I had originally ordered the 22/45 and had paid for the 22/45 - paid in advance to get the barrel chopped and threaded for the suppressor - but he delivered to me a steel frame MK III and no charge difference. I won't complain about that a bit - because when the suppressor is attached to this, the steel frame tends to balance out the weight a bit more than the 22/45 would. Still waiting on the ATF to process the damn paperwork for the suppressor so I can pick it up as well. And since I bought several dozen boxes of sub-sonic .22lr before the rush, I'm set for ammo for quite a while with this.
But I do have a few questions:
Since this will be a dedicated suppressed .22 - (using a Yankee Hill Machine Co. Phantom suppressor) and since I've never had a dedicated suppressed handgun before I do have a few questions regarding optics.
Obviously, in a real world situation or in a PAW (Post Apocalyptic World) situation, this thing would be used between 0 to 50 feet. At least that is my general thoughts.
So, keeping in mind that it is suppressed, isn't to be used more than 50 feet away from its target, and that it is a .22 (but will be using the 60 grain subsonic rounds) - what is a very accurate, yet rapid target acquisition optic for this set up? I can easily remove the irons and replace with a rail...