Whelp I've managed to receive the last "functional" piece to finish my AR-15 build. I was missing only the forearms, although my upper/lower receiver hasn't yet been delivered. I had decided long ago to go with the
YHM-5009-TJ
but they have been out of stock for as long as I have been looking. Recently I found them in stock at
Midway USA
and for $27 less than the MSRP at YHM. I went with the extended rifle length (15") as I have a 16 inch barrel. This gives me the ability to put the iron sights as close to the end of the barrel that I can and only leaves 1" of the barrel exposed from the forearm. It might look a bit strange at first, but I think I'll like it.
After laying everything out to look at what the build will be like after it's finished, I think I've made some solid choices in my selected parts.
Here is a full component list of all the parts I've purchased for this AR build: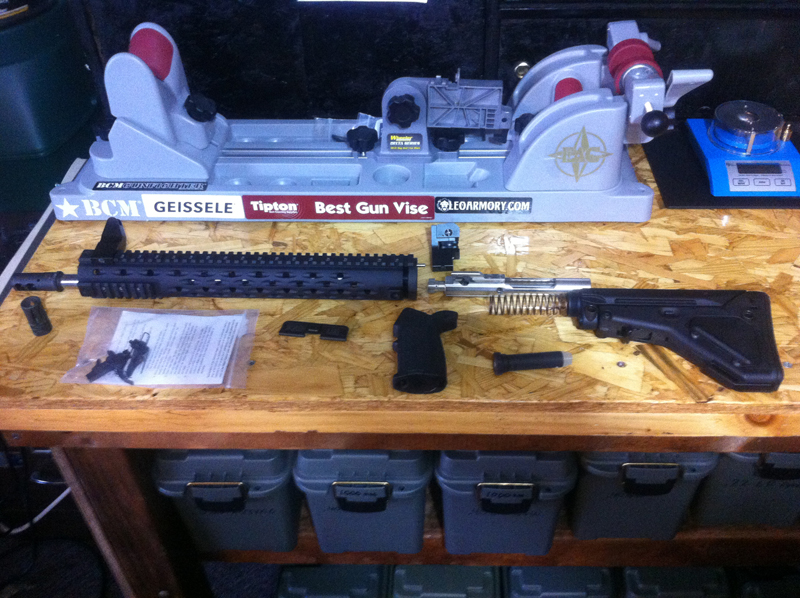 Barrel
:
Recce 410 Stainless Steel Machined Mid-Length Gas Impingment 1:8 twist 16"
Gas Block
:
VLTOR Low profile gas block GB-2S .750 Machined, phosphate finish
Gas Tube
:
Gas tube - Mid Length - w/roll pin
Trigger
:
Geissele SSA Trigger - Super Semi-Automatic - non adjustable - match grade two stage (2.5lbs stage 1 - 2lb stage 2)
Upper / Lower Receiver
:
Mega Arms Billet 7075-T6 aluminum matched upper & lower receiver
Bolt & Carrier
:
WMD NiB-X Nickel Boron coated Bolt carrier group. (Properly staked gas key - grade 8 fastners) Carrier, bolt, firing pin, extractor - all parts. Semi-Auto
Bolt Release
:
Magpul B.A.D. Lever
Pistol Grip
:
Magpul MAID AR Basic Grip Kit, Black
Stock
:
Magpul UBR Collapsible Stock
Lower Receiver Parts
:
Spikes Tactical AR-15 Lower Receiver Parts Kit, extra trigger & spring, extra disconnector and spring, extra hammer and trigger pin, safety selector, detent, spring, bolt catch, magazine catch, front pivot & rear takedown, buffer retainer spring and plunger, extra pistol grip - USA made above Mil-Spec
Forward Assist
:
PSA (Palmetto State Armory) AR-15 Forward Assist Assembly with forward assist, spring and roll pin
Silencer
:
Yankee Hill Machine Company 5.56 / .22 Stainless Steel Q.D. Phantom Price includes tax stamp
Dust Cover
:
Leo Armory Laser Engraved Dust Cover
Recoil Buffer
:
Spikes Tactical AR-15 Carbine Action Spring & ST-T2 Heavy Buffer
Iron Sights
:
45 Degree Offset (Dueck Copies) Iron sights
Handguards
:
Yankee Hill Machine Company 15" Todd Jarrett Competition Free Float Tube / Quad Rail Handguard Extended Rifle Length
Out of all the parts in this build that may need more description is the BCG (Bolt Carrier Group) from WMD. However if you have any questions about any of the other parts in this list, I'll be glad to share what information I do have.
WMD BCG:

This thing is strange. It's my first NiB part and I've had zero experience with them before. But it's slick. It feels greasy/oily to the touch but there isn't any residue on my fingers afterwards.

The gas key looks well staked - there are no burs or jagged machined edges visible. And ALL parts of the BCG with the exception of the retaining pin are NiB coated.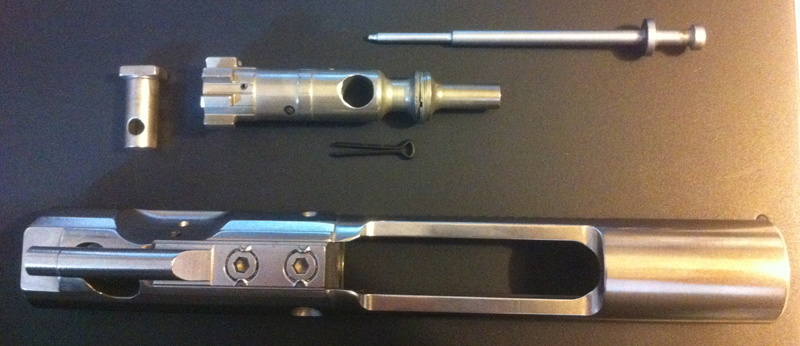 The best part for me was the warranty that WMD gives its parts"
This warranty covers the products of WMD Guns for failure of the NiB-X coating against chipping, peeling or wear-through. The warranty is of unlimited duration. WMD Guns will re-coat the product free of charge including return shipping costs...
Then in the included instructions:
...the bolt and carrier can now be cleaned and put back into action without harm from lack of lubrication. The number of rounds fired before cleaning will change due to powder variations. Some powders are dirty (heavier fouling). Other factors, such as the use of a suppressor, will leave the rifle dirtier and will increase the need for cleaning.

The NiB-X bolt & carrier will operate without lubrication until a fouling buildup prevents the bolt from closing into the battery. NiB-X bolt & carrier can be cleaned in the field with a brush and / or a rag with no cleaning solution needed. Fouling will wipe off and heavier fouling can be scraped off.

The NiB-X bolt gas nozzle end can be scrapped clean with a dull metal edge without harm to its coating. Stainless steel brushes are recommended and will not harm the coating.
According to the manual the BCG is:
- Bolt Assembly: case hardened, shot peened, magnetic particle inspected, Carpenter 158 bolt with high-performance extractor, ejector springs, one-piece gas ring and special O ring buffer.
- Carrier: 8620 material (M-16 style), heat treated and case hardened.
- Gas Key: Attached using grade 8 hardened fasteners, staked per mil specs.
- NiB-X coating on all compents is highly lubricious (CoF= .07)
- All components manufactured by US Suppliers to the military/industrial complex.
So based on their claims AND their warranty - I think I did right in getting this BCG. I'll know more after the receivers come in and I finish the build.
I'd really like some comments or critiques on the build regarding the specific parts I've chosen (and already bought) - Seeing as how parts are parts, if I've made a grave mistake somewhere I'd like to know so I can change it out.
After I finish this build and after parts come back down in price and are in stock, I'll probably start a .308 build on an AR platform. I love the FN-FAL L1-A1 that I have but it is damn heavy, and I really like the AR platform.