First I have to apologize as I've lost many many of my "project" photos. They were on an iPhone that decided to not give them to me... stupid phone. But I managed to get a couple, take a few more and piece this project thread together.
Anyone that is going to reload ammunition
OR
work on their guns (cleaning, repairing, building...) needs a bench. You just do. Sure, you could work on your guns on your dining room table - which may discourage your daughter from bringing her dates home; but the wife tends get upset. And with reloading, as anyone who does reload can attest, you need a
STURDY
bench due to the movement and the force required when cranking on the lever of the reloading press. A flimsy table will cause issues such as powder spills and general messes that can prove to be rather dangerous.
So a bench I needed as I was getting into reloading.
I searched for online plans and found several "economy" models - but none of them seemed to do the trick. They were all lacking in one way or another. The, as if in a poof of magic, I found the National Reloading Manufacturers Association's plans in a .pdf which I have linked to through the photo -
just click on the picture to be taken to the online .pdf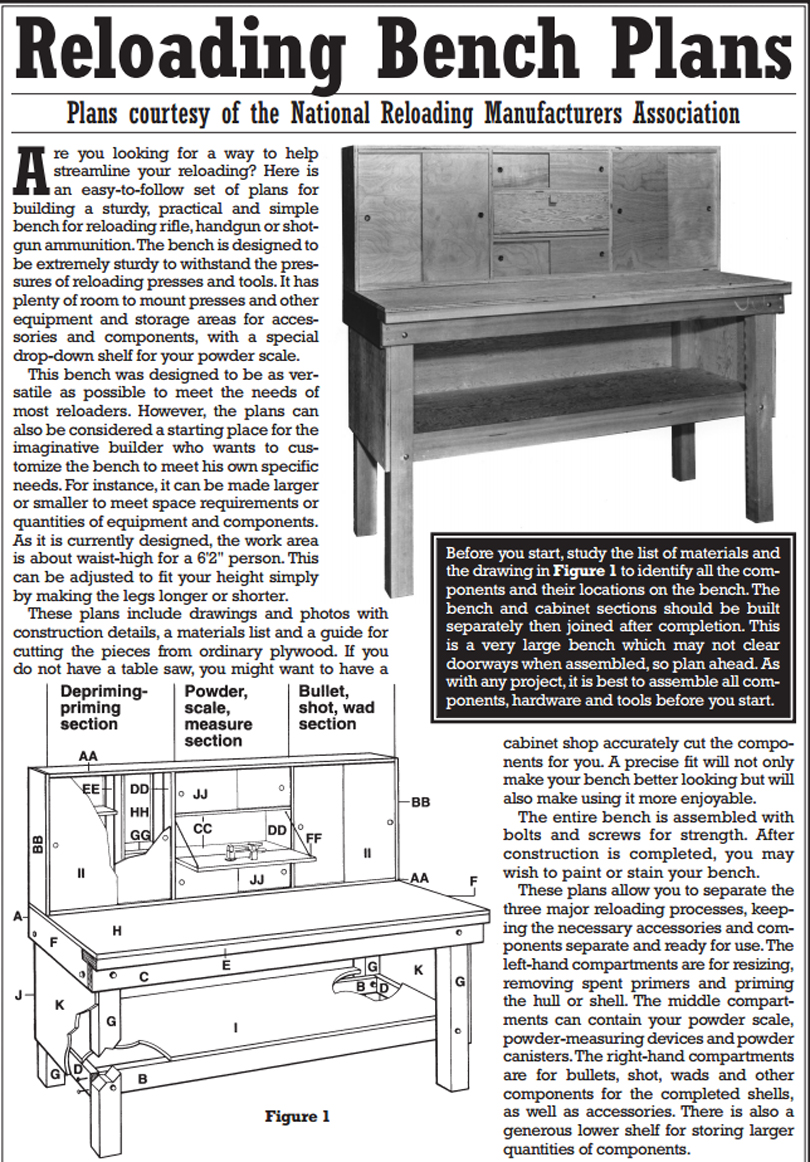 Now, for me - that design is perfect. The problem with the plans, for me, was the overall price. It was calling for solid oak - and this bench, as you will see, can be easily made with press-board for a much lower cost.
As I said before, I lost a lot of my project photos. However, here is a photo of the bench in construction: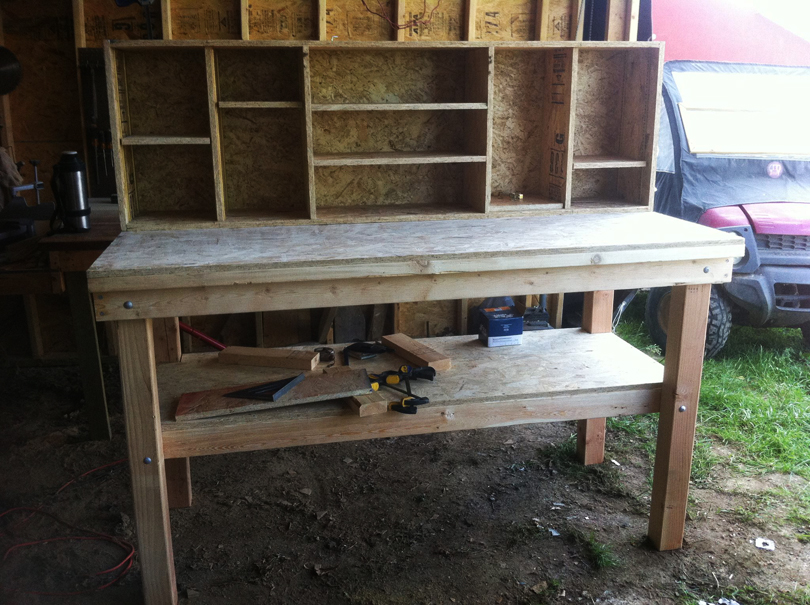 It is a shame that I lost so many photos as I had, more or less, a step by step process in photos - but now, I have a general overview and a simple recommendation that this is the bench which you should build given the tools, capability and space.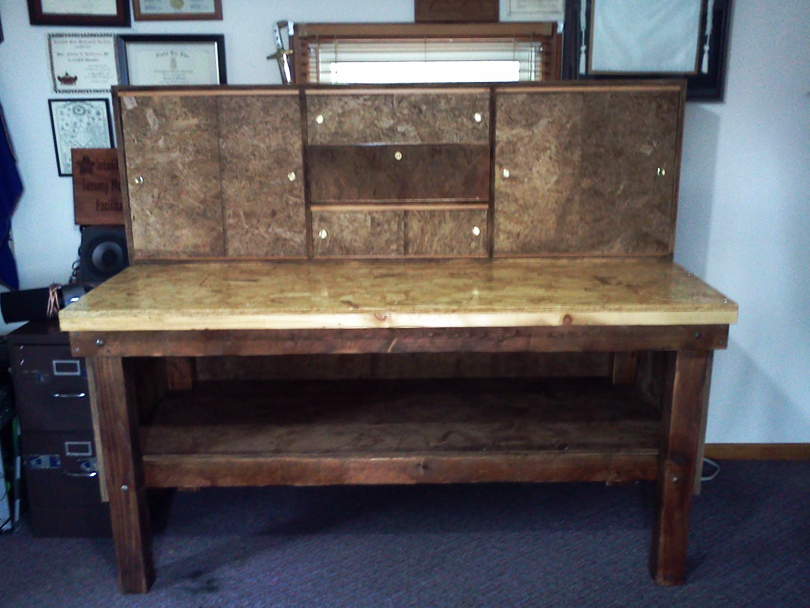 As you can see between the first and second photos, I had to chop the legs a bit as the seating height wasn't comfortable, and it has been stained. Also, I put several coats of clear polyurethane on the work-space area of the bench. It's crucial for that to be smooth and free of splinters. Wiping a powder spill off of press-board would be difficult at best. So, you will certainly want to build up the layers of polyurethane to the point that the bench feels smooth to the touch.
It took me a bit to get everything set up the way I wanted it and you may or may not choose to set it up the same way - but this is what works for me and how I like it: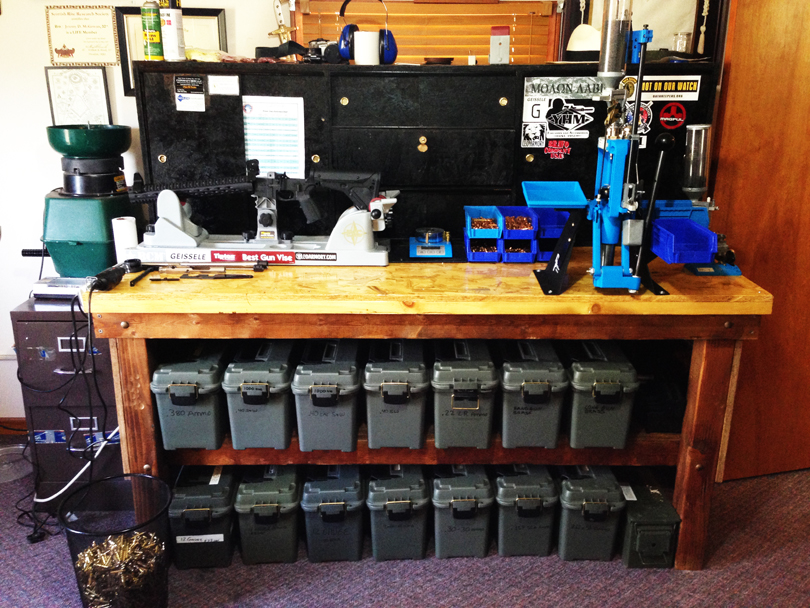 The above is the "general overview" pic, and the current configuration of the bench and work area. The Left side is dedicated to gun cleaning, repairs and building, and the right is my reloading area.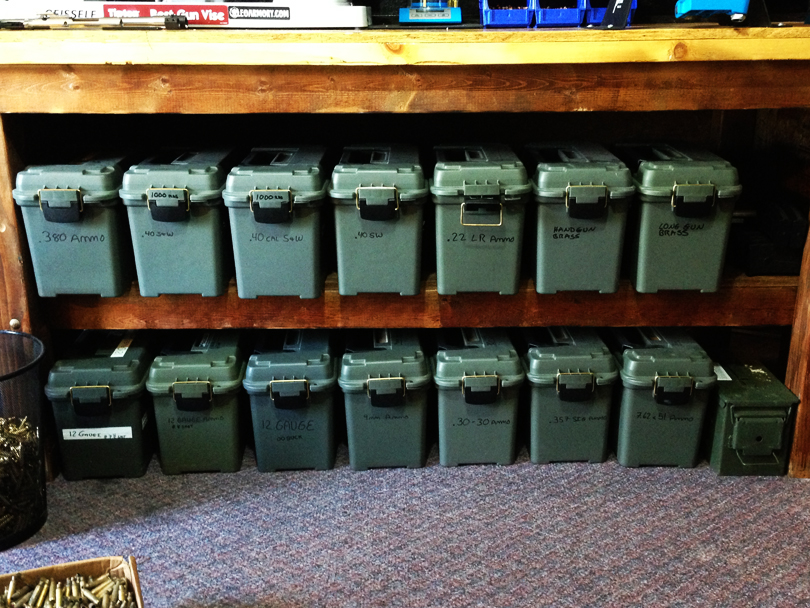 The first lower shelf and the ground "shelf" are both plenty deep for two large Cabella's Style dry-box ammo cans per spot, or for whatever storage you wish to put down there.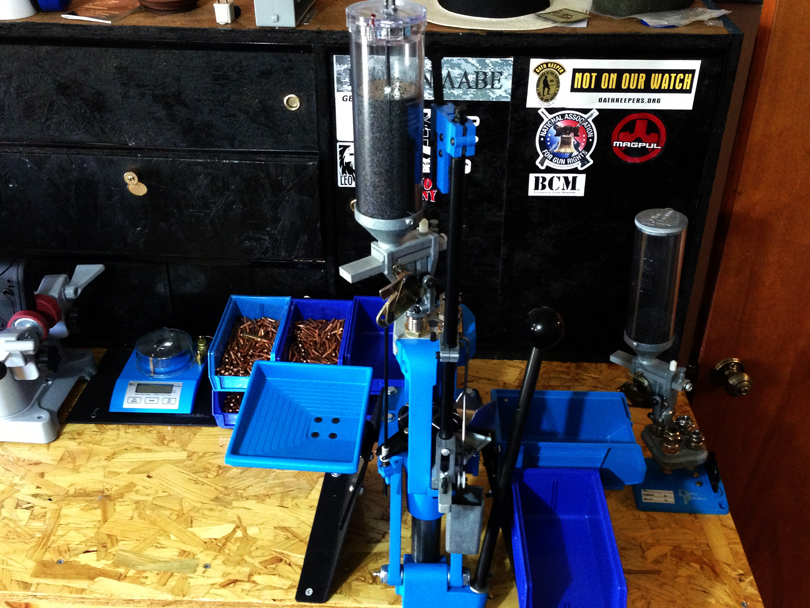 The right side of the bench, I have set up with the press and for my general reloading area. The press is bolted directly to the bench and doesn't wiggle or shake at all. It's imperative that you use solid wood for the base as you NEED weight on the bench to keep things from rocking and rolling when you use the press. Everything is bolted down. I even mounted my Dillon quick changers to the bench. I use those so I can switch between .40 cal and 9mm in under a minute and continue to reload without wasting time re-setting my dies.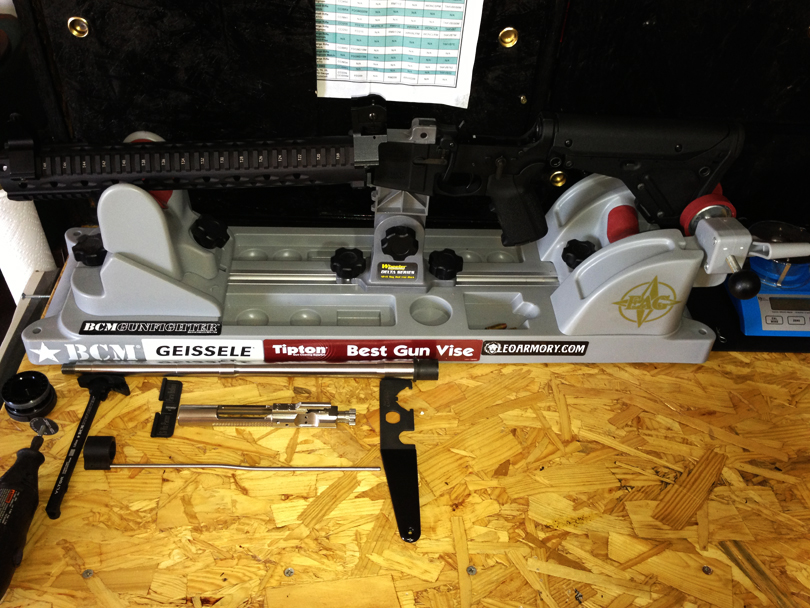 The left side of the bench has been dedicated to gun cleaning, repair and building. And you can see my current AR-15 build in progress. One thing that is not shown is my vice. It is currently mounted elsewhere, but I will be relocating it to this bench for the sake of convenience. Unless you have arms like Popeye, you'll need a vice to build an AR. And they are just damn handy to have for many other things when dealing with guns.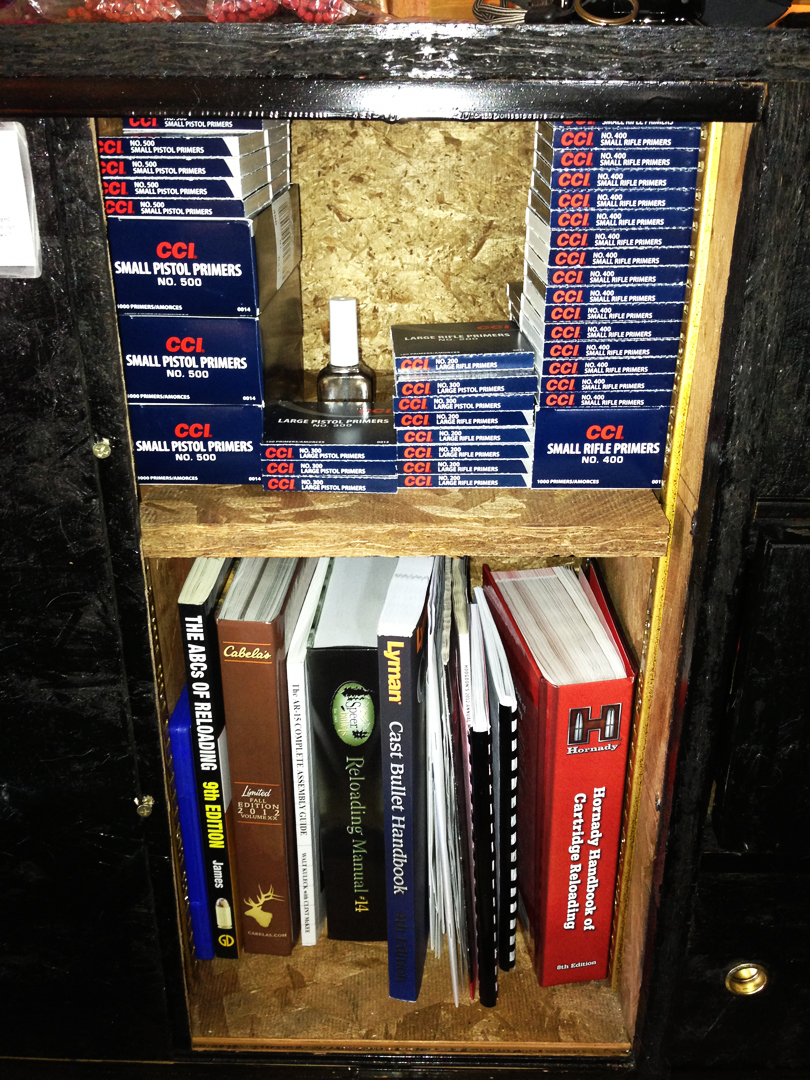 The internal shelves can be positioned for different heights. For me, I've chosen to use one of the right-side spaces for my primers (above) and my reloading manuals (below).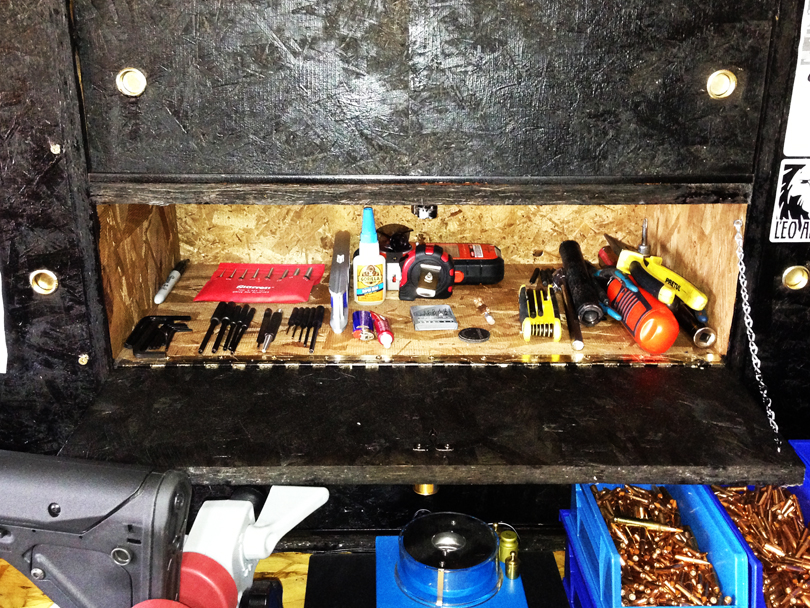 And of course, everyone needs a place for their tools. Now this isn't all my tools - but mostly just my gun specific ones. Roll punches, pin guides, and all the other goodies.
This bench has MANY other storage compartments which I use for powder, spent primers, cleaning kits, lubrication and everything. It is, for me, the ultimate Reloading and gun work-bench that is out there. If you can put it together - do it. This design is highly recommended.
Enjoy and have fun.