Let me first start out by saying that the firearms manufacturer
Mega Arms
has lost a customer and I am making it my mission to get as many people to steer away from them as possible; and here is why:
In October of 2012, I placed an order through my FFL dealer for a Mega Arms billet upper and lower set in 5.56 for my first AR-15 build. It was initially told to us that they were 3-4 months behind and that I should see the set around February at the latest.
Ever since December, I've been sending an email, every few weeks, to Mega Arms to inquire as to the status of my order.
I ended up talking mostly to a guy by the name of Jason Curns (
Jason@megaarms.com
) who goes by the title of "Firearms Manager." Jason told me in December that they didn't have a single unit in stock but that I shouldn't worry. I told him I was worried because at that time I was out of the country and was being told that there was a huge anti-gun push in the USA and that legislation may be enacted preventing me from purchasing an AR-15 by the time they got the set to me.
In January, I sent another email:
Jason,

I'm sorry to keep bugging you on this. Today is January the 7th, 2013.

Previously you stated that you think you will have the billet set shipped to my FFL holder before any malicious law even gets close to passing. Being in Ecuador, I'm a bit out of the loop on many things - but I hear that Jan 15th may see the enactment of some very restrictive gun laws - including an AWB.

Do you see this being shipped to my FFL holder prior to that, or is this something that probably won't happen on the date they say?

Just anxious to get my billet set.

I could have bought any AR upper/lower - and built a decent AR - but I chose Mega for various reasons of quality and design. I sincerely hope I get it before I'm not allowed....
The reply I got from Jason make me think that production was actually happening and that I should be receiving my order soon:
We are moving on production, but unfortunately I cannot see where your order is in line. Please rest assure, that our rights will not be infringed on, to the point of you not being able to receive your set. WE are running 24/7 to make sure needs are met, but with current orders being what they are, is rough.

Jason Curns

Mega-Arms

Firearms Manager

1-360-918-0054 Office

1-360-918-0058 Fax

1-360-561-4798 Cell

jason@megaarms.com http://www.megaarms.com
Then February rolls around and I again send another letter to Jason inquiring as to the status of my order – and this is the reply I received:
The order is still in the system. The Custom Gun Shop was given a estimated time of delivery of April 5th in their Sales Order Acknowledgement. We should have no problem meeting that date.

Jason Curns

Mega-Arms

Firearms Manager

1-360-918-0054 Office

1-360-918-0058 Fax

1-360-561-4798 Cell

jason@megaarms.com http://www.megaarms.com
Awesome – so April 5th – with a "no problem meeting that date…" But I don't take people's word anymore and once 30 more days passed, I sent another email to Jason:
Jason -
Today is another 30 day mark being March 6th. This is [redacted] writing again. Sincerely hoping you can provide a hard date for the shipping of the billet set we've been discussing since last year.

Thank you in advance
I received a reply almost immediately from Jason, reassuring me the April 5th date still looks good(ish):
Again, the Sales Order Acknowledgment says April 5th for shipping. There are a lot of orders in front of yours still, and we will be getting to it. To give a hard date of exactly when it will ship would be impossible. Please understand we are EXTREMLY busy, and doing the very best we can during this push. We will get your set out.

Jason Curns

Mega-Arms

Firearms Manager

1-360-918-0054 Office

1-360-918-0058 Fax

1-360-561-4798 Cell

jason@megaarms.com http://www.megaarms.com
I returned to the USA in late March, and even though it hadn't been 30 days since my previous email, I decided to let Mega Arms know I was back in the States and to see what the status was now – so I told them and this time, Jason was done talking to me – he forwarded my email off to a lady by the name of Tamara Dabner, with the title of "Firearm Sales" – so I was downgraded from talking to one of the main players at Mega Arms to being "dealt with" by one of their sales associates…here was her email to me:
Jason forwarded me your email so I could look up your order. I pulled up the part you are waiting for (part #M0903-HA) and there are 102 of them to go out ahead of your order. We send parts out in the order that the orders were placed. We are running almost 24/7 and doing our best to get parts out as quickly as possible. Your part is not going to be able to ship on the April 5th date. We haven't even started manufacturing the parts yet.

Thanks for your patience and understanding. Please let me know if I can answer any other questions for you.

Tam Dabner

Mega-Arms

Firearms Sales

1-360-918-0054 Office

1-360-918-0058 Fax

tamara@megaarms.com http://www.megaarms.com
So, now they are telling me just 2 weeks from their deadline that they won't be able to meet the deadline at all and that they
haven't even started manufacturing the parts yet!!!
What the HELL???!!! Where was that manufacturing push that Jason was talking about way back in January??? Apparently they would rather spend their time posting FaceBook photos of their guns than actually manufacture any…
But I really wanted a Meg Arms billet set – so I sucked it up and decided to continue my wait.
Then April 5th came and passed – and I still waited another 10 days before I decided to send them another email. So, today, April 15th – I sent them the following:
Jason Curns / Tam Dabner:

Today is April 15th - 10 days after the original ship date.
I am the proverbial thorn that will not go away and would like a status update on the upper/lower matched billet set that I ordered.

In your previous email you stated the part will not be ready by April 5th.
A few questions:

1) Can you please let me know a projected date that it WILL be ready?
2) Have you started production on the 102 units that were ahead of mine in the order chain?
2) If not, when do you anticipate starting and how long will it take to get to mine in that line of 102?
3) If so, how many more are ahead of mine?

I know you aren't supposed to discuss orders and production and such - but that is simply an internal policy and not mandated by law.
Your customer, here, would like to know when he can expect his product that was bought and paid for already.

I eagerly away your prompt and informing reply.
And received this in reply:
We still have not started manufacturing the parts you are asking, so it is going to be difficult to give you a projected date. We are doing our best to manufacture parts as quickly as possible. There are still 102 orders ahead of yours. The parts will ship as soon as they are available.

Tam Dabner

Mega-Arms

Firearms Sales

1-360-918-0054 Office

1-360-918-0058 Fax

tamara@megaarms.com http://www.megaarms.com
HOLY CRAP!
They STILL haven't started manufacturing the parts!!! For a company that says they were working 24/7 in production they certainly don't produce anything!!
I had had-it with Mega Arms at this point.
Tam / Jason
I'm sorry. I don't think I have any faith that I will actually ever receive my set. It is incredible to have waited this long for product that has not even started to be manufactured yet. You have not answered any of my previous questions as to how long the 102 pieces will take to manufacture nor when you anticipate starting the manufacturing. Therefore I simply cannot risk not having my set. I will be canceling my order with my FFL dealer. Hopefully, your refund policies are much quicker than your manufacturing because I will be using the money to purchase a complete upper and lower billet set from someone else however this time it will not be a Mega Arms brand.

Furthermore, I am a very active member of numerous online forums the experience that I have had with mega arms will be very publicly published. I will also be encouraging any person that has an outstanding order for a billet set to cancel it and I will use quotes from the emails from mega arms Jason and yourself to back up my position.

All of this could have been avoided by simply explaining in detail to me why I have waited so long. Why you have not started production on the 102 units ahead of me; when you will start production; how long it takes to manufacture those 102 units. But I did not get a single answer to anything therefore I'm sorry, but I will be canceling my order.
So, after getting my money back from my FFL dealer (who had nothing in stock that I wanted) I then went to a local gun shop and walked out with this: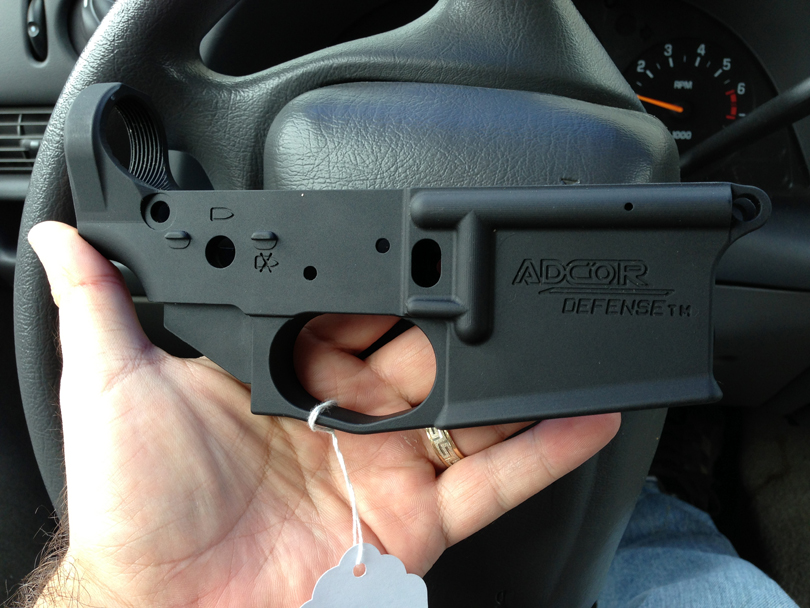 That is an
Adcor Defense
aluminum billet lower receiver – that was in stock. And even in this age and time of crazy gun prices, I ended up paying exactly what the dealer paid + tax.
which happens to also be SIGNIFICANTLY LESS than what Adcor Defense sells them for online… happy me!
The receiver is Aerospace Grade 7075-T651 Billet Aluminum and hard black anodized plated.
The trigger guard is machined into the receiver making it 1 piece and significantly stronger – also because it's billet – there are no burs, tool marks or other errors in the receiver. In effect – this thing is perfect. Even the magwell is flared out – but not so much that it becomes ugly.
So, I went back to my house and began to finish the build that I had waited on Mega Arms for so long: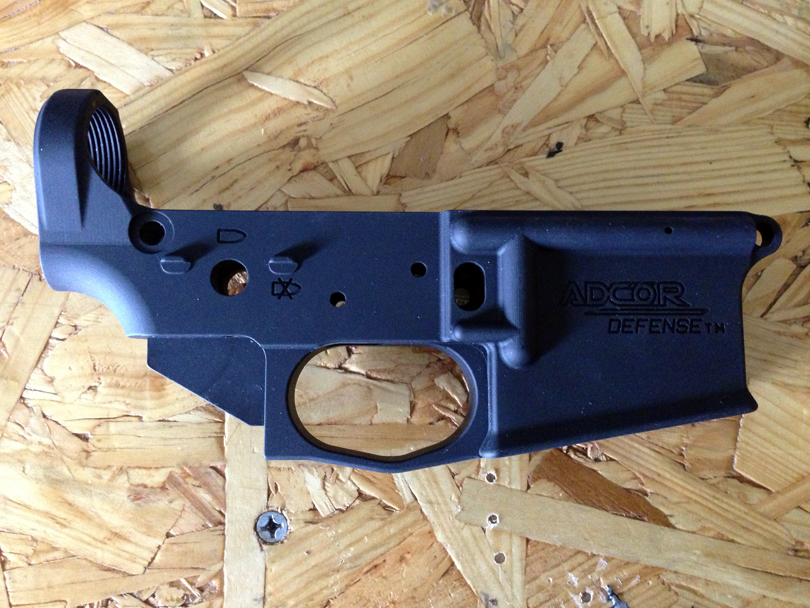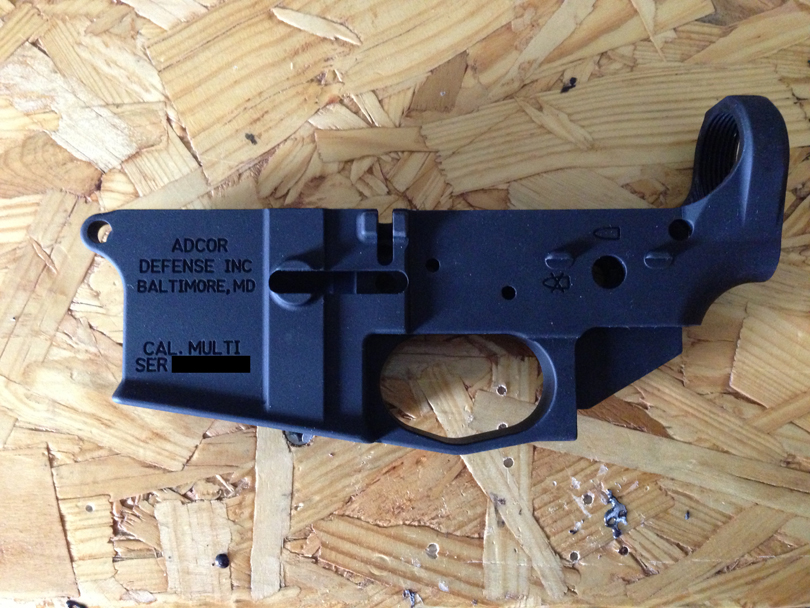 After comparing the engraving graphics from the Adcor Defense and the Mega Arms – I'm now much happier with the Adcor – it just looks more "gunny" than Mega – the Mega Arms engravings looked too "toyish" for my tastes anyway.
And in about an hour, I had fully assembled my lower receiver: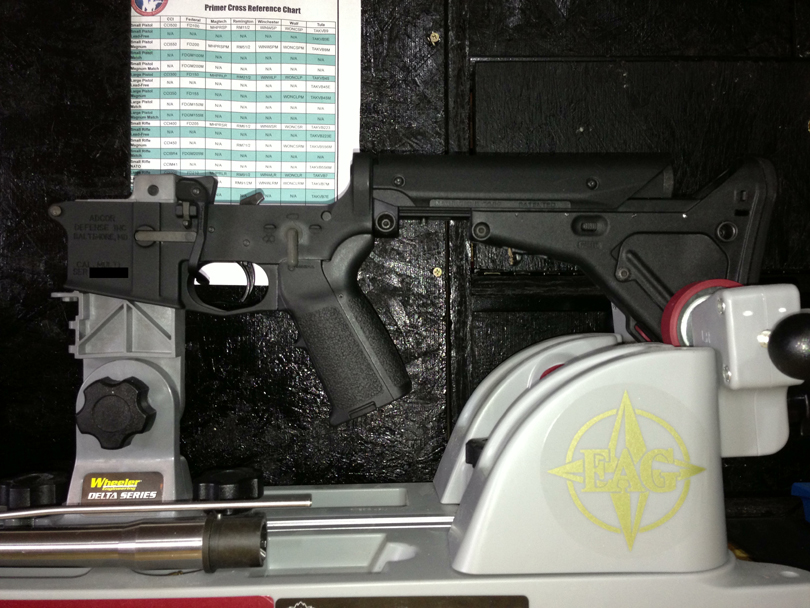 Installed is the
Geissele Super Semi-Automatic SSA Trigger
, the
Magpul B.A.D. Lever
, the
Magpul MIAD Grip
, a
Spikes Tactical ST-T2 Heavy Buffer
, and the
Magpul UBR Collapsible Stock
.
I just need to settle on an upper receiver and finish the build.
So, if you have ordered anything from Mega Arms - my advice is
QUIT WAITING
- they haven't even started production yet... cancel your order and get something that is available now and go shoot!