I've been reloading for a while and I have a pretty good grasp on things.
I've got a Dillion RL550B with all the options (except the case loader - my ceiling is too low) - and a kick ass reloading bench.
Primarily I reload pistol ammo but I am getting started with reloading .308 and 5.56.
For the record - I will always say 5.56 and never say .223 simply because I own a 5.56 chambered AR-15 that exceeds the SAAMI specifications for 5.56 so that's where my loads are.
The other day, an order I had placed a while back came in: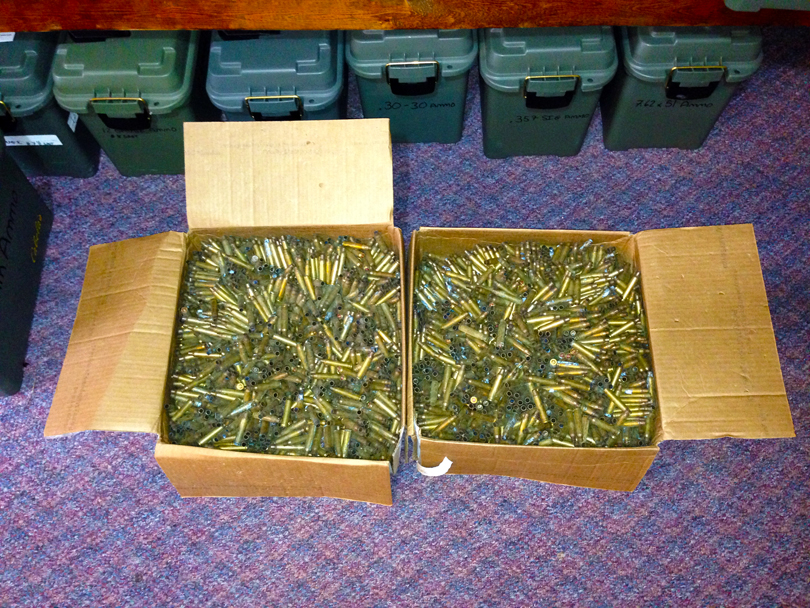 That's 5,000 pieces of 5.56 once fired brass. It's dirty as hell, corroded, and generally just crappy. (good brass in bad condition.)
This is what my brass was normally looking like after opening the box: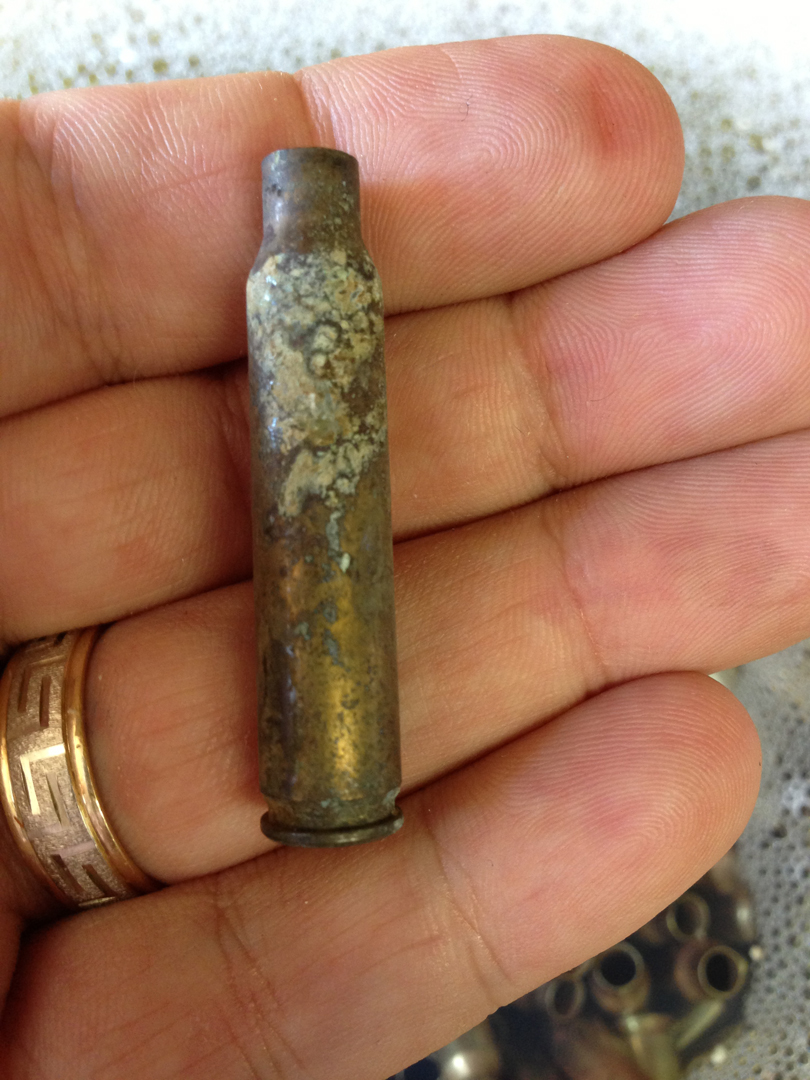 I took 300 and dumped them in my Cabella's 400 model tumbler with corn-cob media treated with Meguires brand Cleaner wax (better than the brass polish that every store tries to sell)
24 hours later - while noticeably polished, there were still NUMEROUS corrosion spots on most of the brass.
A friend of mine told me to use the LSD treatment. I'd never heard of it - so he told me all about it. I tried it and WOW - it worked. It worked extremely quickly and amazingly well.
Here is the breakdown of the LSD treatment for cleaning brass.
1) get a box of Lemi Shine - which can only be found in the dish detergent section of Walmart. No idea why no one else carries it.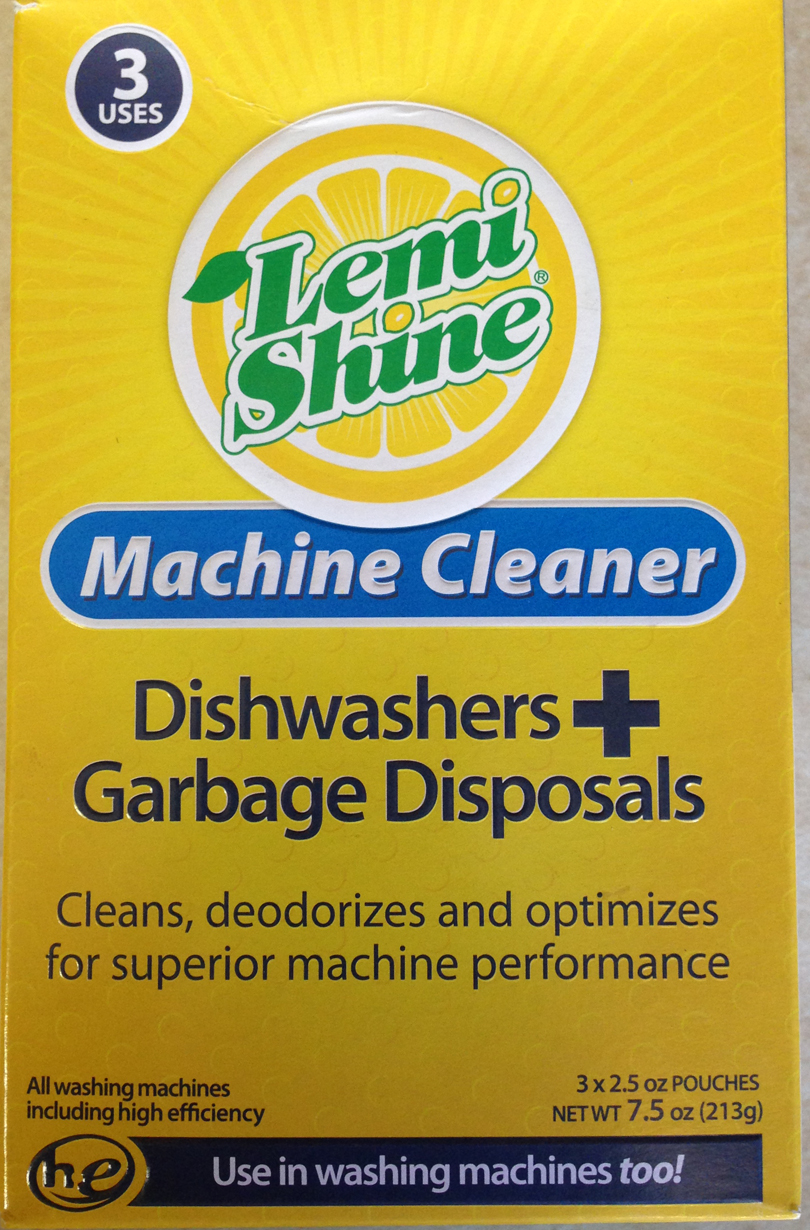 2) and a bottle of Dawn Dish detergent - don't get anything else but Dawn - and get the Ultra if they have it.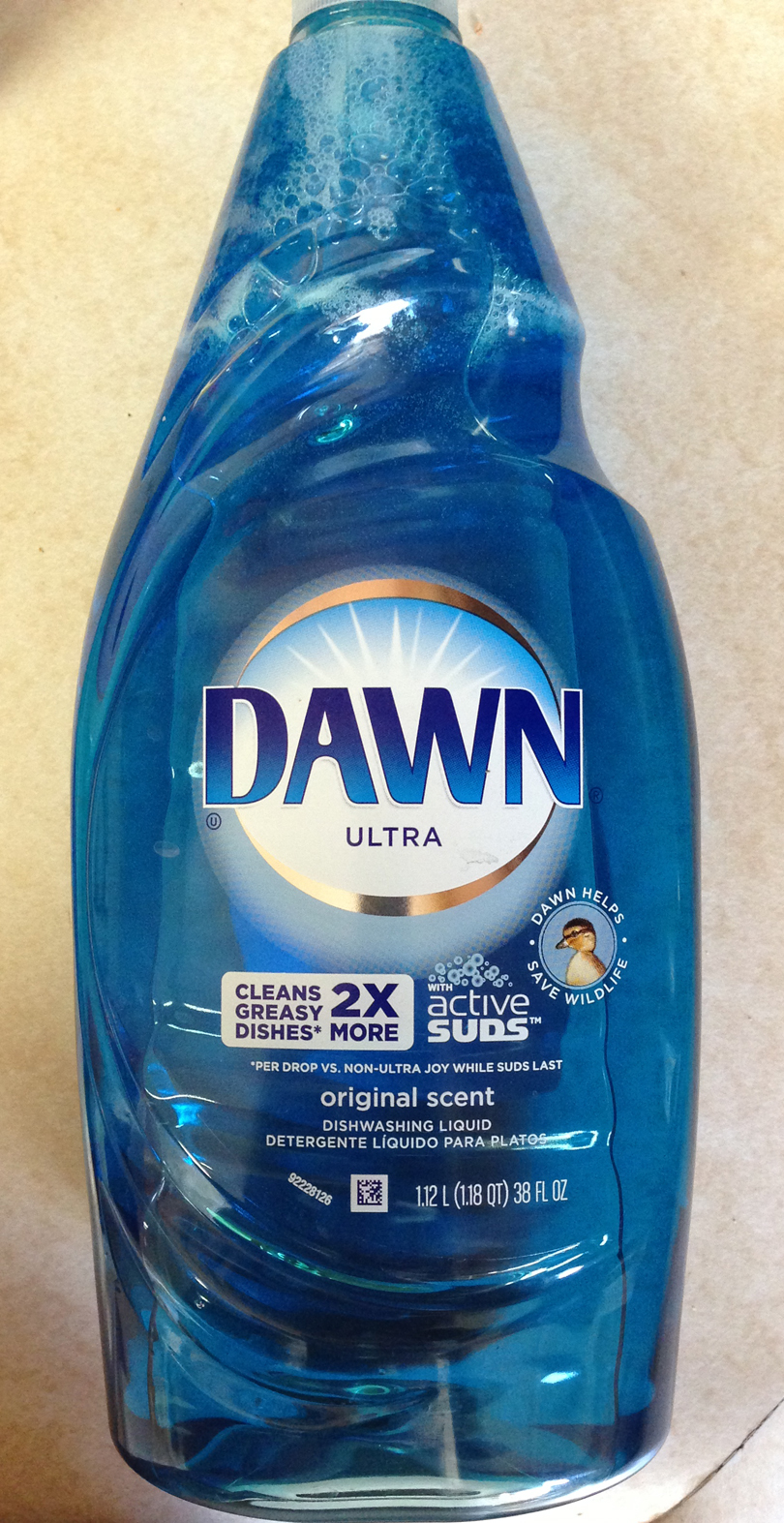 3) get a PLASTIC pan or container like a LARGE tupperware container that is capable of holding about 500 round or so of 5.56 ammo (or anyother kind of brass for that matter...if you salvaged a ship's bell recently - this will clean that too.) Fill it will hot water and mix about 1 Tablespoon of the Dawn and about 1 Tablespoon of the Lemi Shine powder in the hot water. It will foam and disolve.
4) Then dump your brass in the container - shake and stir - shake and stir - shake and stir. You want to make sure the water gets INSIDE of the brass as the corrosion on the outside is probably on the inside also. I took that photo after the brass had soaked for about an hour...just in that one hour the difference was amazing. But you will want to let the brass soak for a minimum of 12 hours...then you are ready to dry them off and dump them in your tumbler for about 2 hours and you are good to go! Clean AND polished brass - with no corrosion on the inside as well as the outside.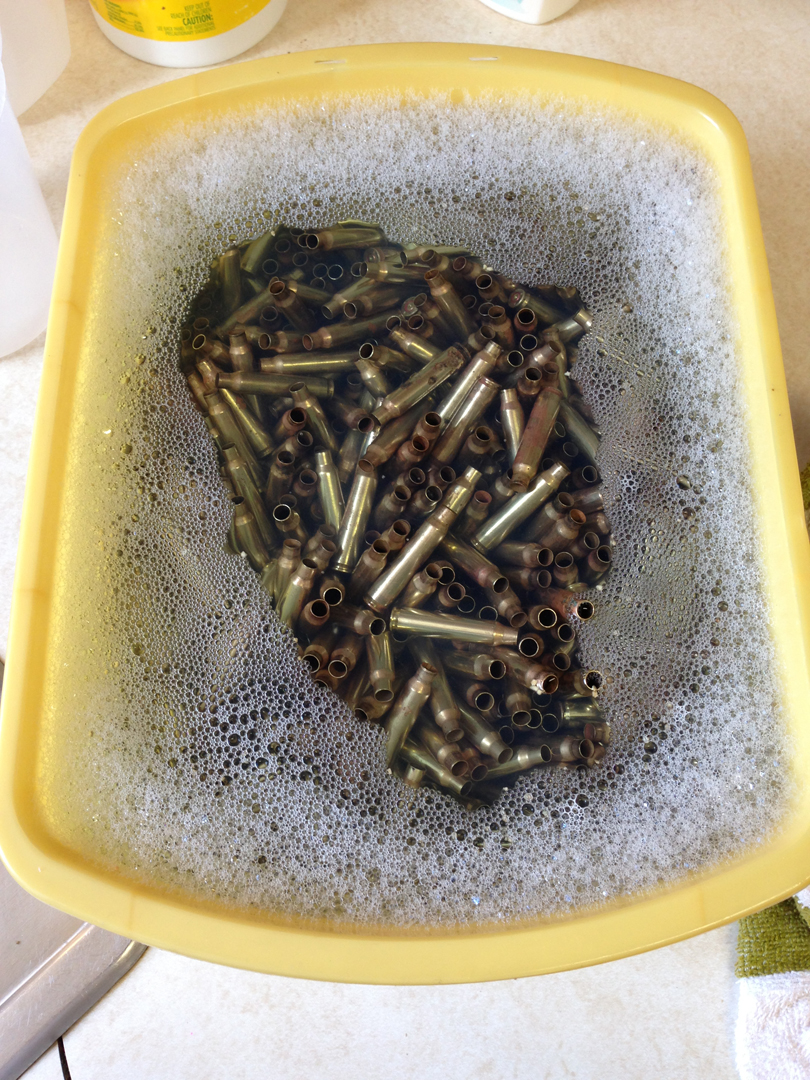 But I didn't think that was a good enough demonstration for this cleaning process, so here is a 1 piece test: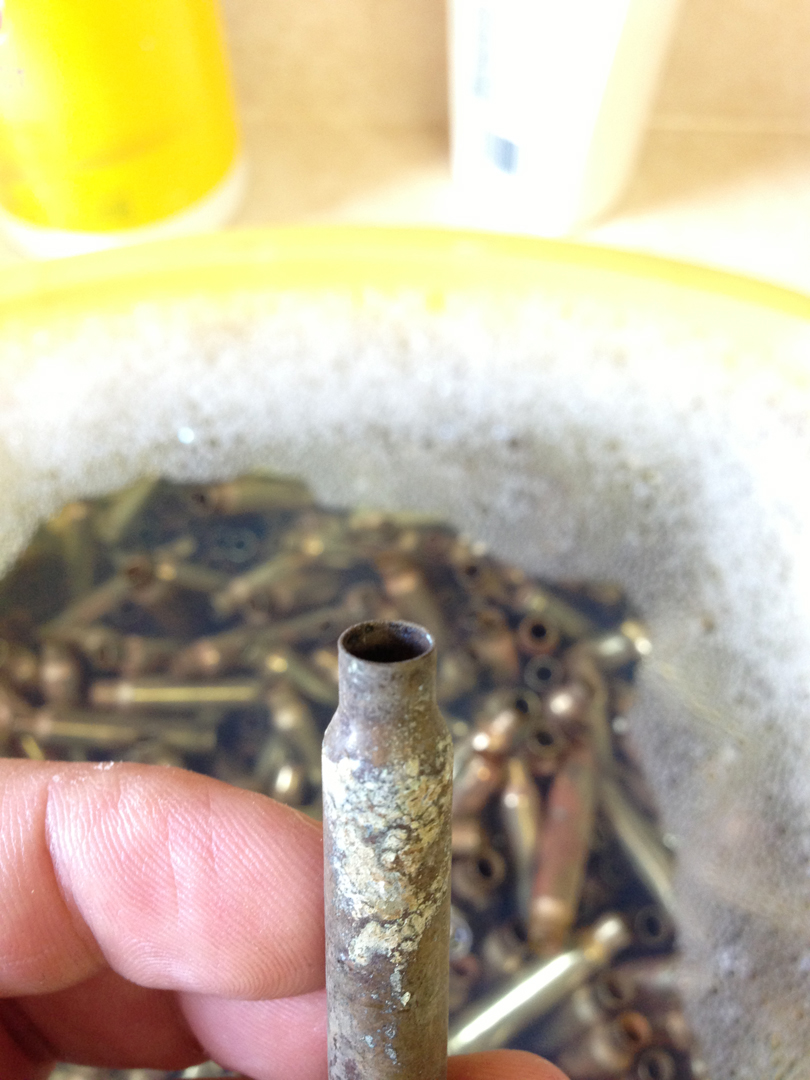 That piece of brass is our test. I will be placing it (shown below) in the container that has been soaking the other brass for about 2 hours now.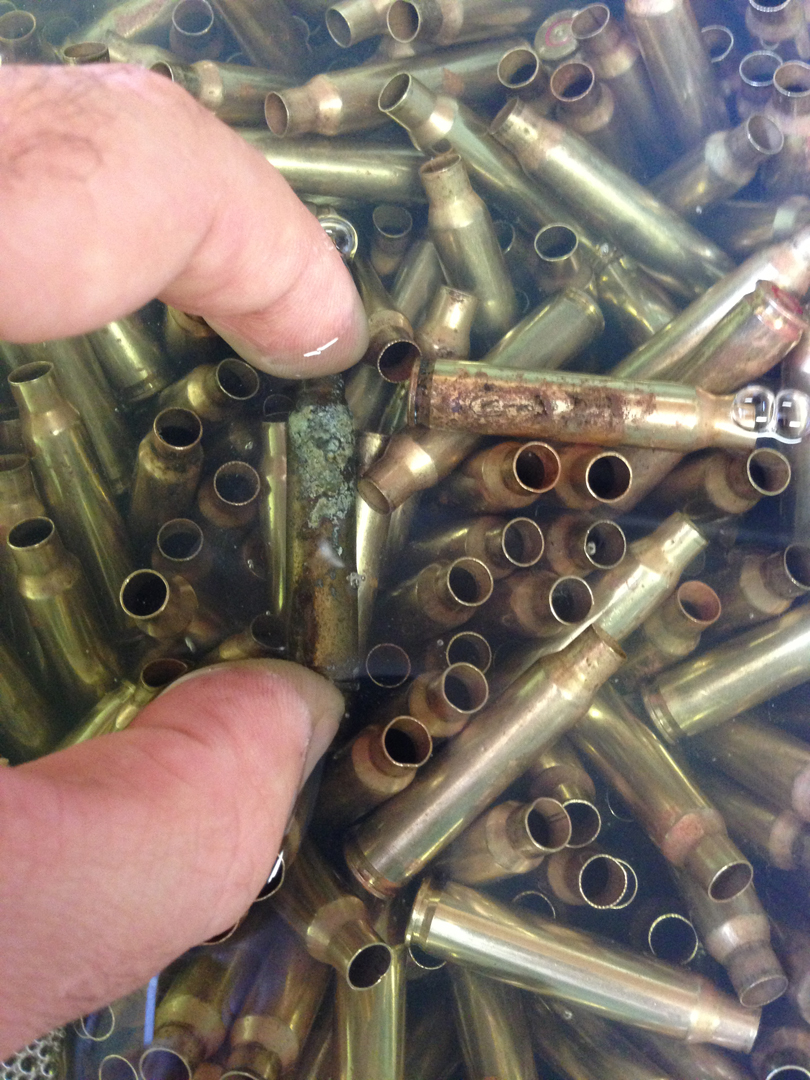 I will not stir or shake the container any more for fear of losing that piece as a demo. But I'll post photos of that piece during progressive soaking time so you can see the difference.
This is 10 minutes after I placed the piece in the solution: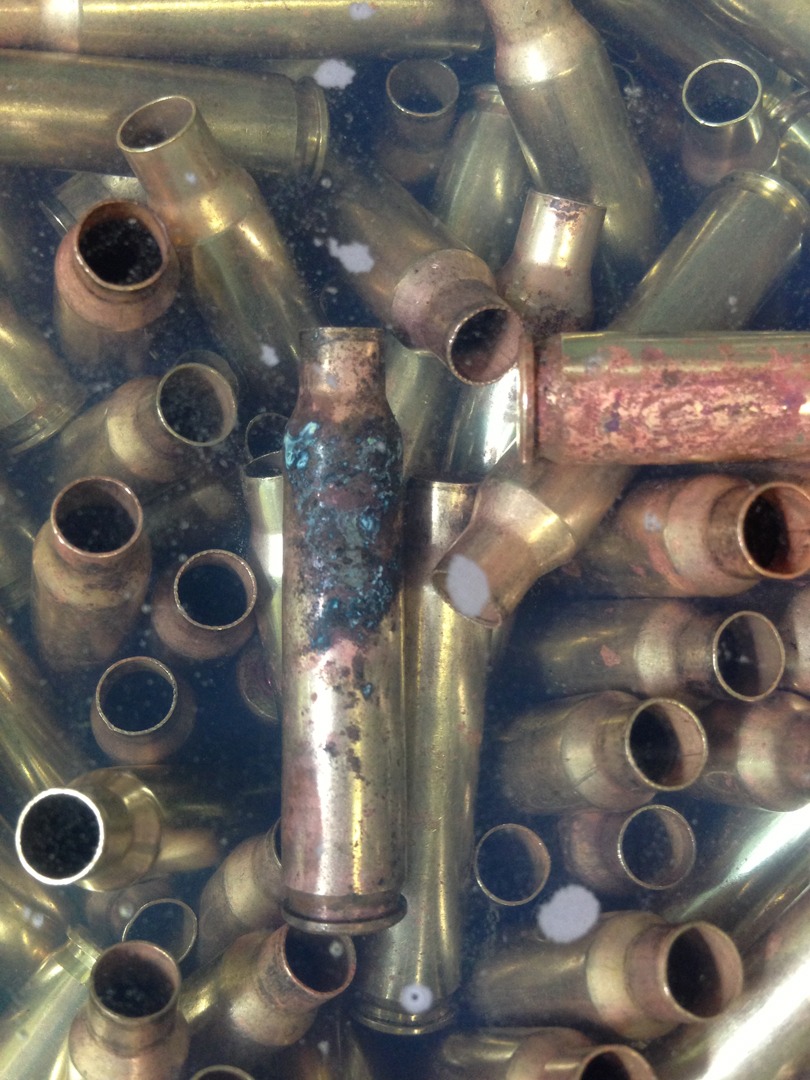 This is 40 minutes in the solution: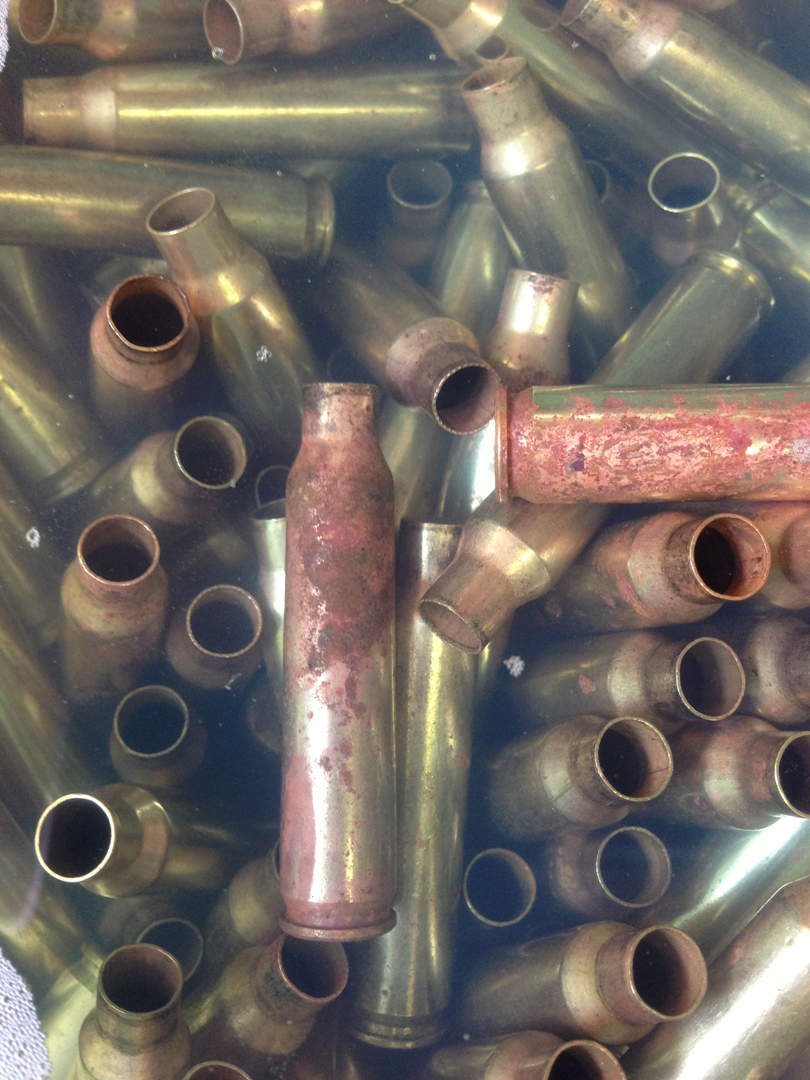 This is 1 hour into the solution: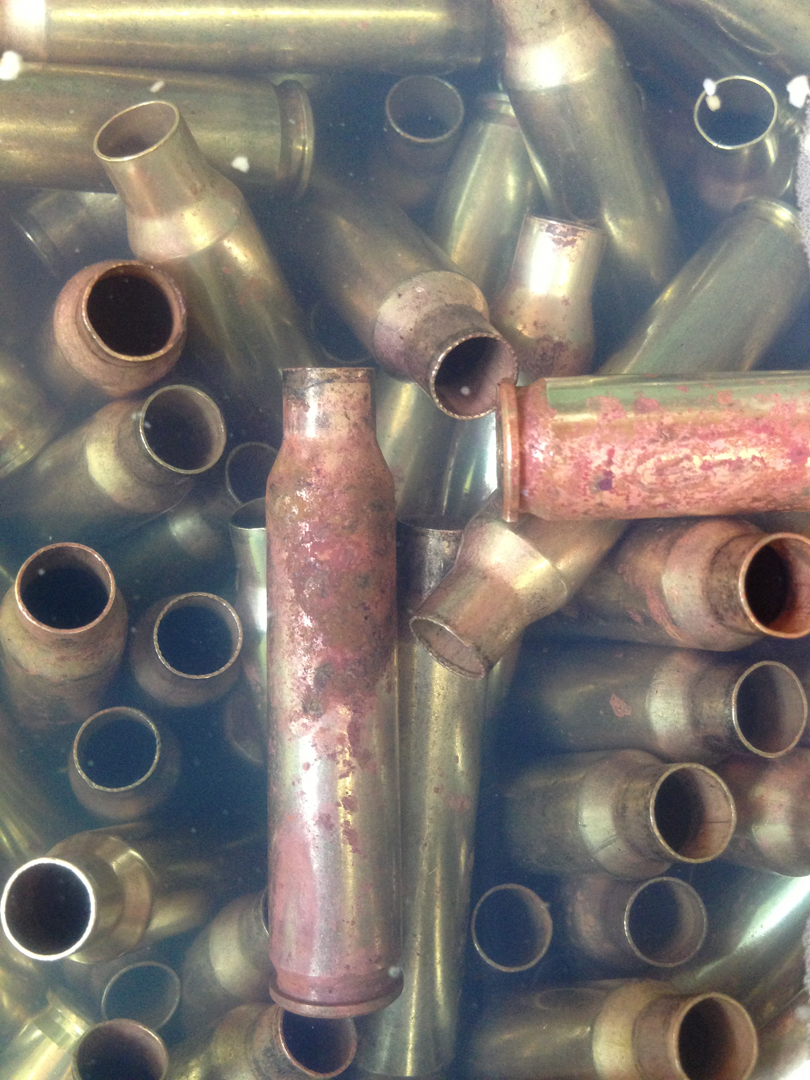 The Next Day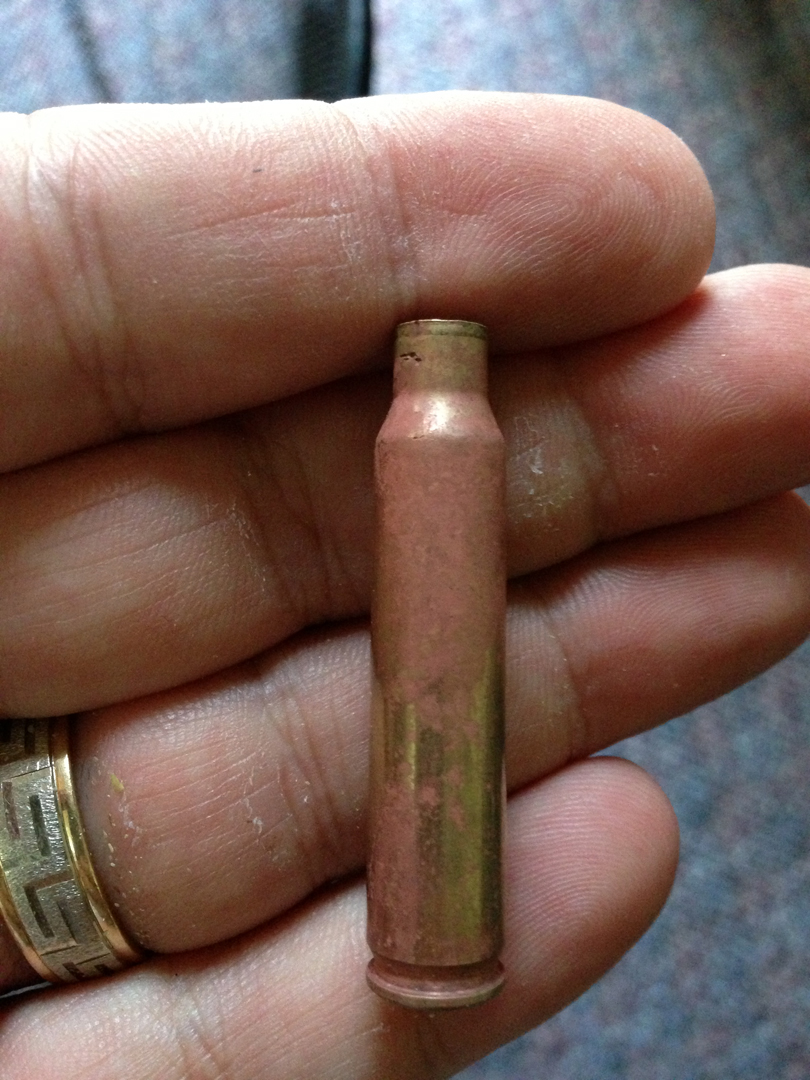 As you can see, 24 hours in the solution has dissolved 100% of the black and green corrosion and buildup from the brass. All that is left now is a stain where the corrosion had attached its self to the metal. You can also see that my hand is a bit dirty from digging around in the water and pulling out all the other brass. I don't normally go around like that.
At this point, normally you would need to dry off the brass before putting it into your polishing tumbler. However because I wanted to demo the one piece that I've been showing, I decided to simply put it in the tumbler alone - for 3 hours - to see the results.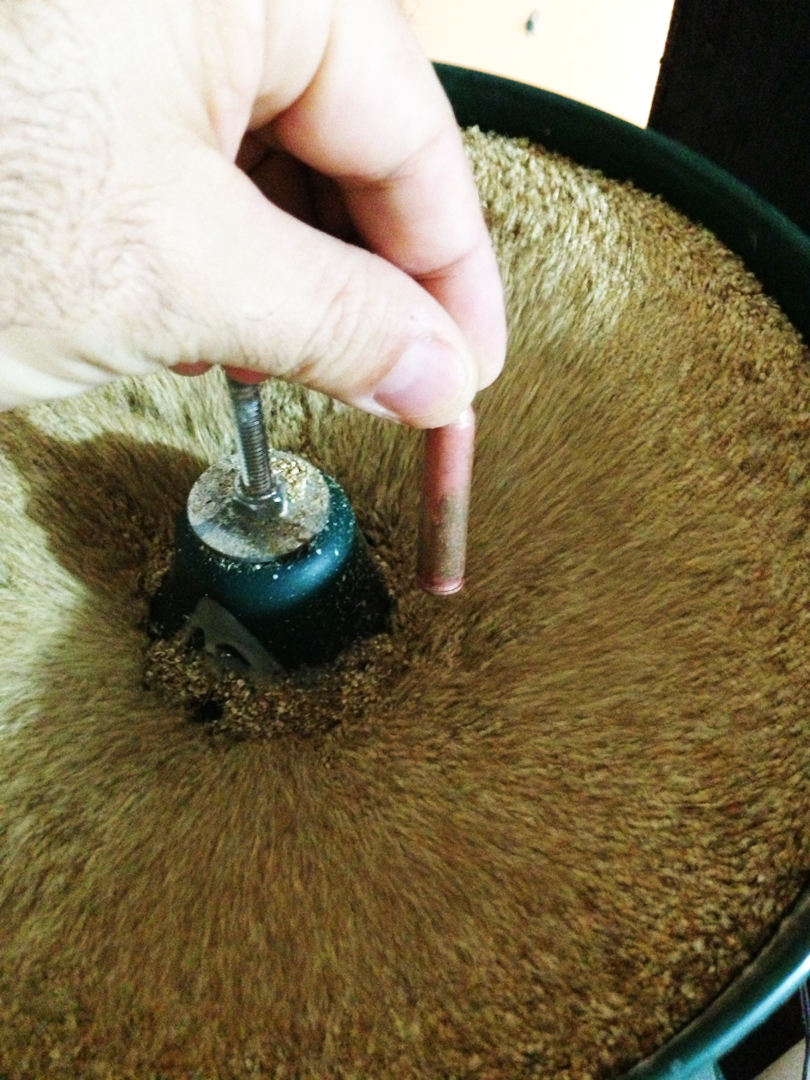 I typically treat my corn-cob media with
Meguiar's Cleaner Wax
- as it has been the best performing additive I've found for making the brass really shine. There is no need to use walnut media after treating the brass with the LSD treatment as the liquid soak dissolves everything and all you need to do now is make the brass shine. I typically put in about 2 capfuls, every-other cleaning.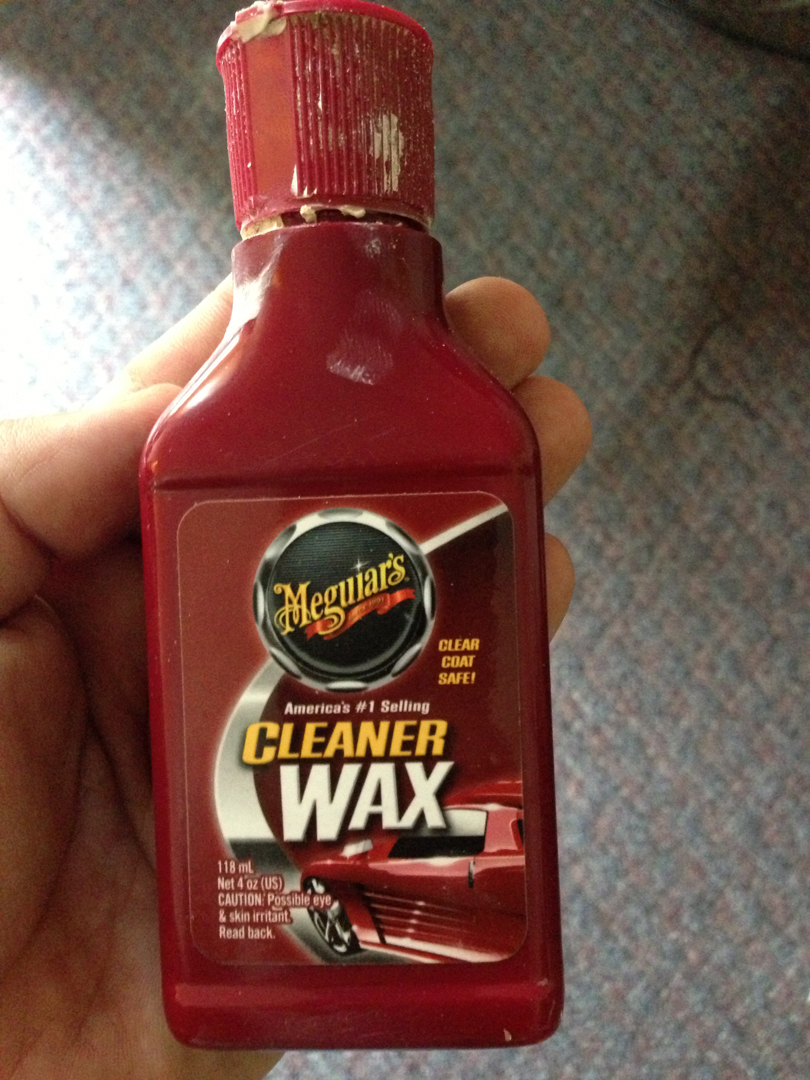 Now, if I were to dump 300 rounds of 5.56 into the tumbler first, I'd need to dry them off - so I picked up a mesh trash can from Staples Office Supply Store to dump the brass in (after shaking most of the water out of them) and let them air dry for a few before putting them in the tumbler. You can see from the photo that just the solution alone has done an incredible job in cleaning up the brass & they will be spectacular after going through the tumbler. The one round I used for this demo was one of the worst.
I'll update again in 3 hours after pulling that one round out of the tumbler.
THREE HOURS LATER
Well the whole process made a significant improvement on the brass! But I was a little torqued when I saw there was a lot of pitting of the brass which I hadn't noticed before. Upon closer inspecion I saw that the brass was actually cracked from what appears to be a bad extraction on its last firing.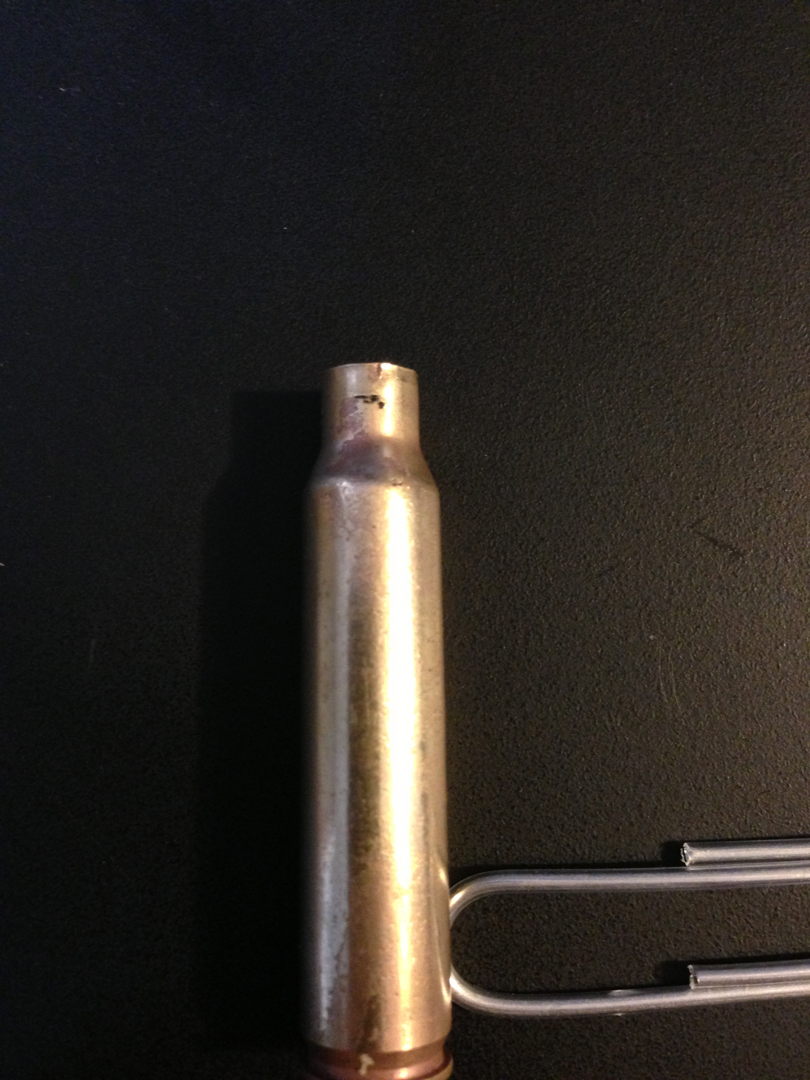 And this is why we clean our brass - this piece has been compromised to the point where it is no longer safe to use. Had it not been cleaned and tumbled - the crack would have never been detected and that could have lead to a catastrophic failure of the casing after reloading it.