I've been tinkering over the past few weeks trying to use different powders and loads to create the perfect (for me) subsonic .223
So, after another full day of experimenting, I've landed with the best recipe I can make for a
55 grain round
and my weapon platform. YMMV....
Here is a general step-by-step on making subsonic .223 ammo:
Everything needed to create a subsonic 55 grain round that will deliver 128 ft/lb energy at 1000 FT/s
Bullets, casings, scale, sharpie, cotton balls, punch tool, Trail Boss powder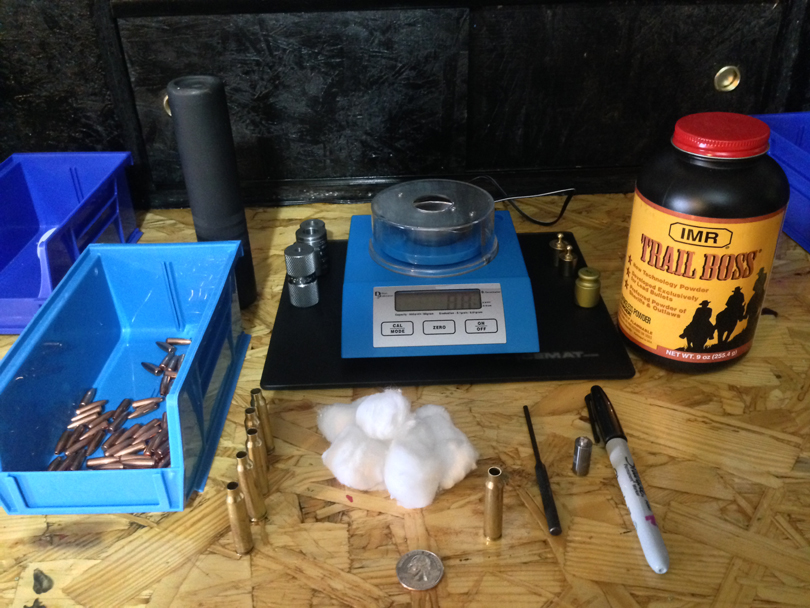 As you can see, the Trail Boss powder is seriously huge. It's primary design is for Cowboy Action type firearms - but it's large signature and fast burn rate make it an exceptional choice for creating subsonic .223 or even subsonic .308 ammo.
Everyone's weapon is different so don't use this recipe and expect the exact same results. This was tested and dialed in on an AR-15, 16" barrel, 1:8 twist, mid-length gas system, with a YHM Phantom Suppressor.
The cases were trimmed to 1.743" and the Over All Length (with seated bullet) is 2.220" using a Speer 55 grain HPBT projectile.
3.8 grains of the IMR Trail Boss powder is what I fine tuned. This gives me 1005 FT/s at 123 ft-lbs of energy. (In comparison a 40 grain .22lr round at 1000 FT/s is 88.8 ft-lbs)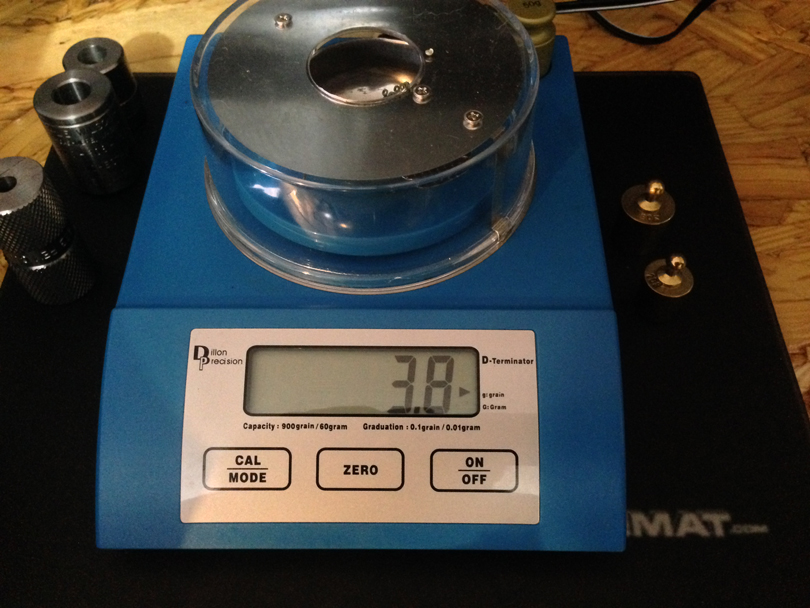 After charging your primed case with the 3.8 grains of powder, rip off a tiny piece of cotton from a cotton ball - (quarter shown for size comparison.)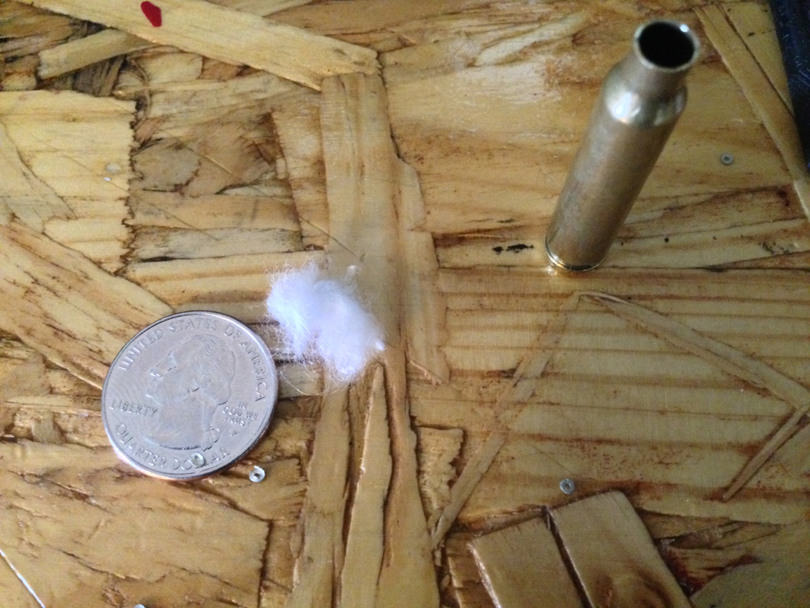 Stretch out the cotton so that it looks like a bad Halloween spider web - very wispy and airy.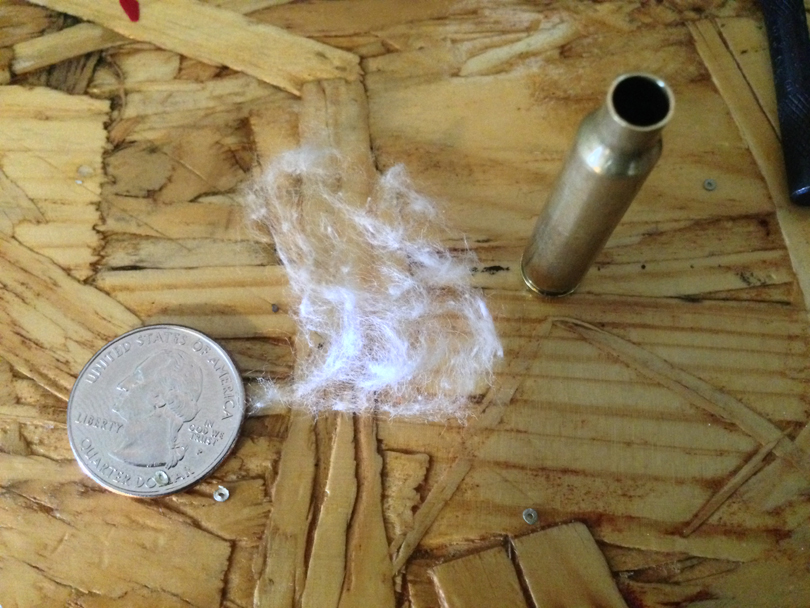 Using your punch tool, gently push the wispy cotton into the case. This will keep the 3.8 grains of powder over the primer hole ensuring full ignition of the powder when the primer is struck.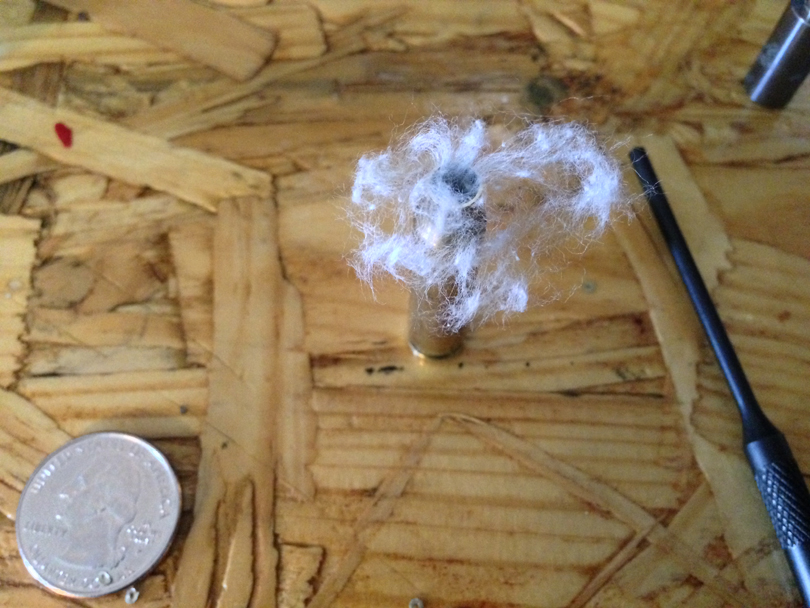 Couldn't get a great photo, but the cotton should fully cover the primer and be significantly lower than the bullet base when seated.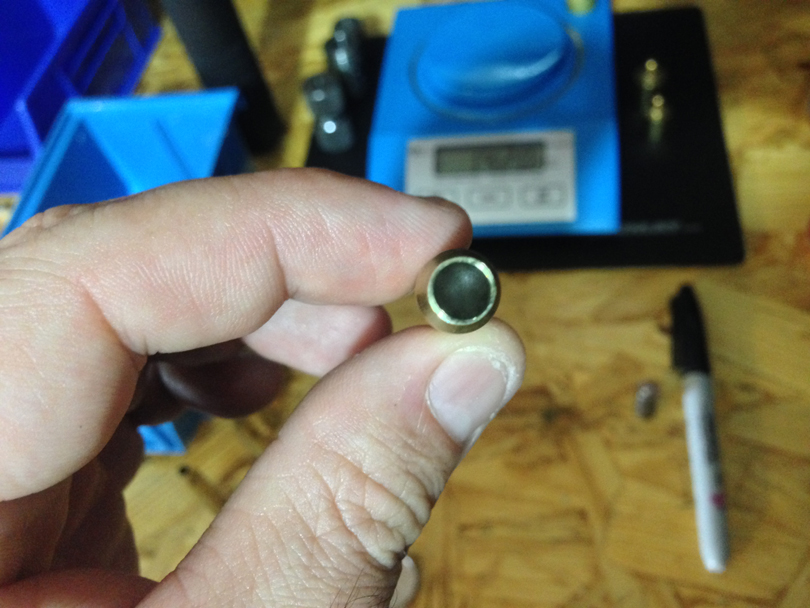 After seating and crimping the bullet in the normal fashion, take a black sharpie and color the tip of the round black so you don't get them confused with your super-sonic ammunition. And now you have a subsonic .223 that can be whisper quite and still take down game out to 100 yards.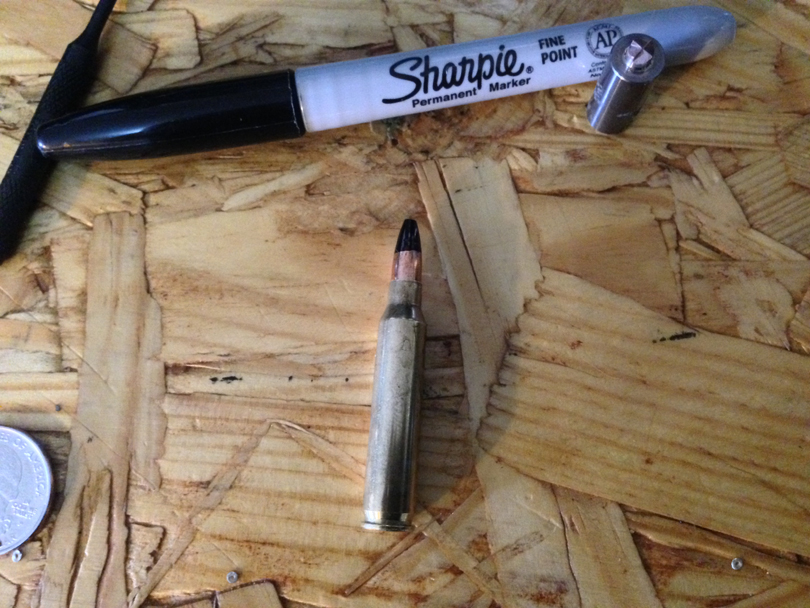 Remember, this is a 55 grain projectile at 1005 FT/s delivering 123 ft-lbs of energy. With proper shot placement (all shots should be properly placed) you CAN take down deer sized game out to 100 yards with this round. In a true SHTF scenario, this could be a life saver if you need to kill your food silently without alerting those zombies around you as to your location. I feel this is a very useful load to have and I'd be very interested in seeing what others came up with in regards to .223 subsonics.
I have not yet tested my grouping at 50 and 100 yards with this recipe as I am waiting for new scope rings. But once I have, I will post my groups.