I hear people mention EMP fairly often as something they consider a possible threat. I personally don't consider it very high on my potential threat list however I do concede that it could happen. Now like many people I have some electronic devices that are stored for emergency use only. Some of these are older items that I have upgraded from like notebook computers and others are brand new items like weather radios and fresh batteries. These items don't see regular use and are always just "stored".
So I was thinking, if they are going to just be sitting in storage, why not attempt to protect them against EMP. I've read a lot of info and theories on EMP effects, faraday cages, EMP proof boxes, testing, etc. It seems the one thing everyone agrees on is that no-one knows what the effects might be, or how severe they might be.
With the expression "something's better than nothing" in mind I'm going to share my simple experiment and tests here for your consideration but I
do not
and
cannot
recommend that you protect your electronics from EMP this way because I simply don't know if it will work. Obviously it would protect from air, moisture, crushing, etc.
I have an Electronic Radiation Tester that I bought years ago to locate hidden transmitters. This device shows how much RF energy is around it and lets you determine the location of the RF source. It lights up and registers cel phone usage very well even before the phone rings it will let you know the phone is transmitting and receiving a signal. It will also show you things like how bad your microwave leaks…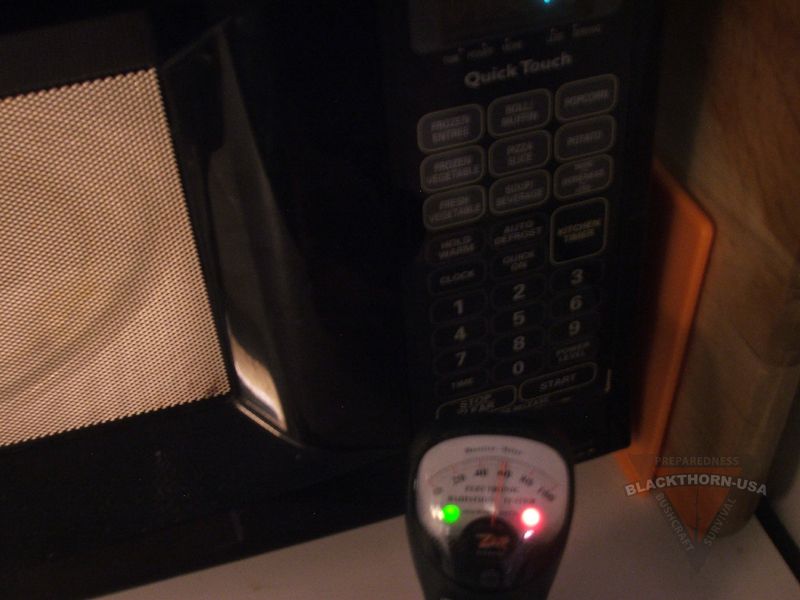 I wanted to see what it would take to block the signal to my phone. Now I understand that EMP and cel phone signals are entirely different, but it's just an experiment with what I had on hand. And again, something's better than nothing.
Here's the cel and the tester.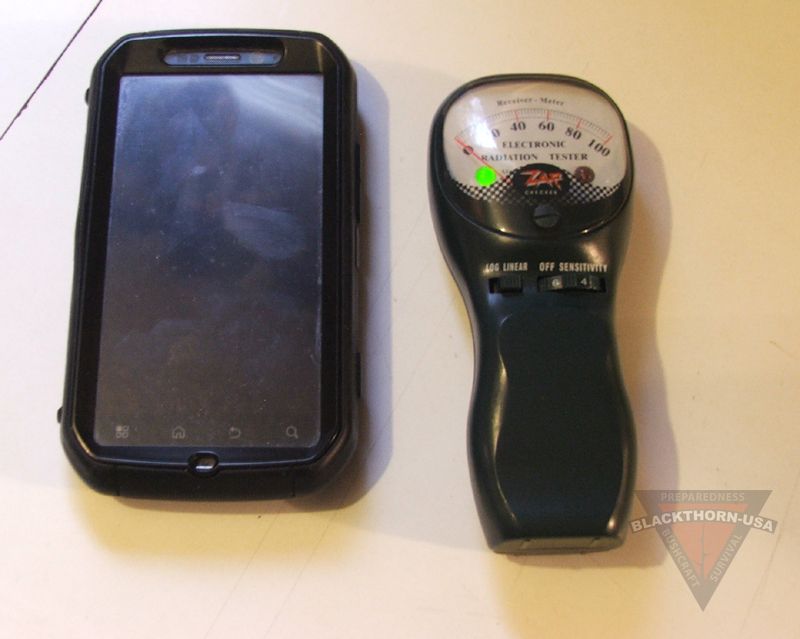 And what it looks like when the phone is in use.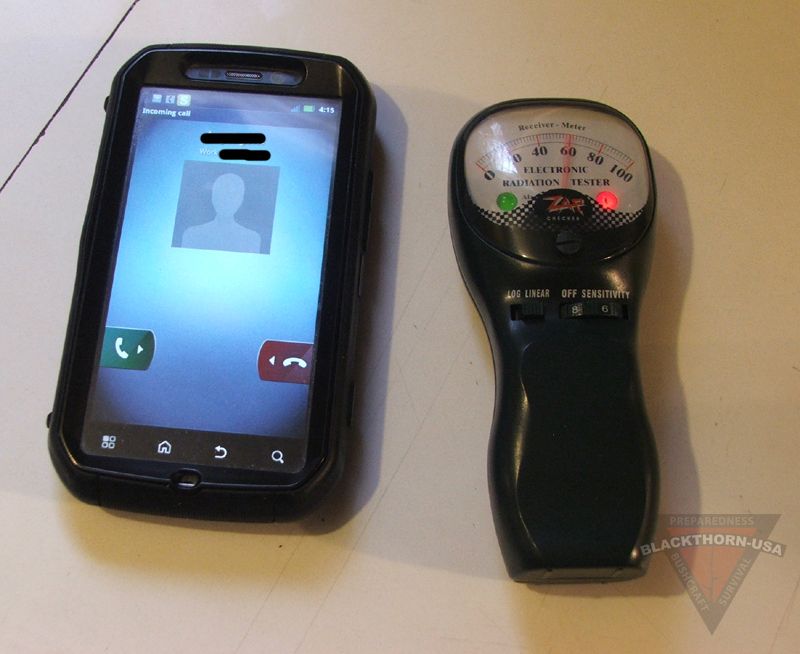 I then put the cel in a Mylar bag and just folded the open end over twice, no heat seal.
And then had my friend call me again. Signal was 100% blocked. No tester reading of any kind, no phone ringing, nothing. Welp that was easy.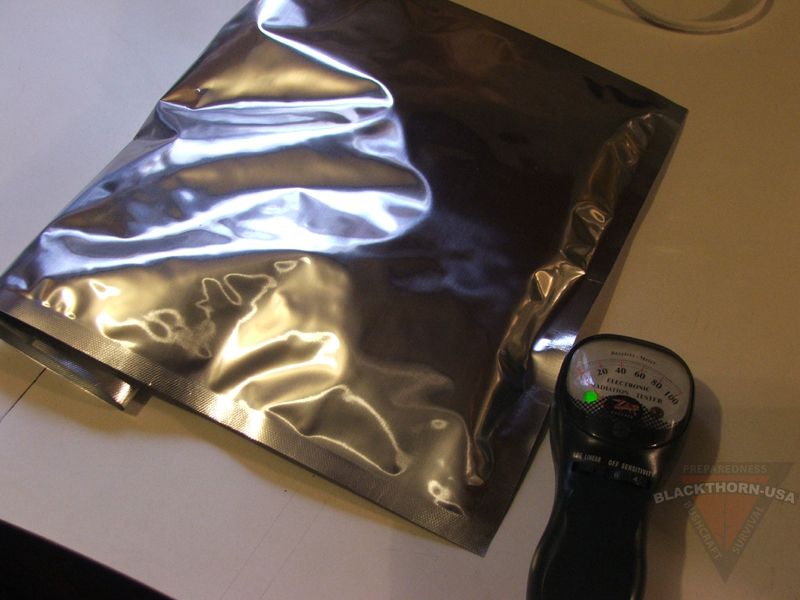 I decided to try an AM/FM radio too. I tuned in a strong local station on FM and put the radio in the bag folding twice as before. The signal was cut to virtually nothing although you could still hear static clearly. In moving the bag around in the air the station would get a little clearer but still quite faint.
I've read where people suggest that something as simple as an ammo can will block EMP too. So having an ammo can I set my cel in the can on a small cardboard box so that the cel wasn't touching any part of the can, closed the lid and had my friend call it.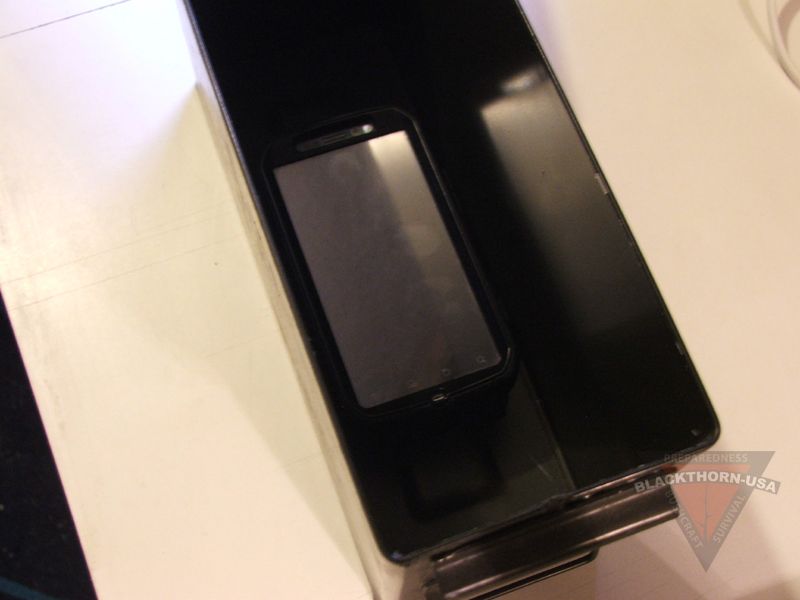 Again, 100% blocked.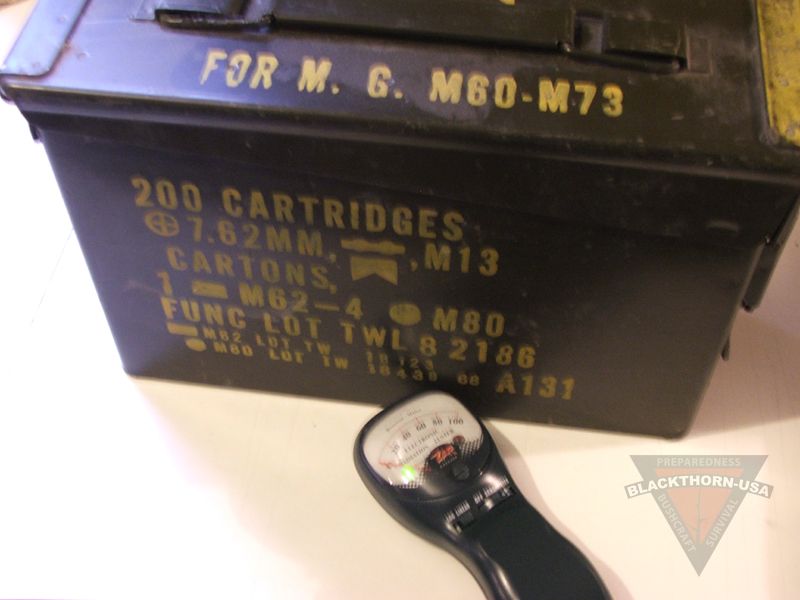 That was the extent of my experiment for the day. It would seem that a steel box is pretty effective at blocking at least some RF energy and also that something as simple as a Mylar bag is too. Now I won't make any claims as to how effective this would be for EMP protection, but for my stored electronics, I'm going to put them in Mylar and store them in an ammo can.
That will protect them from many possible causes of damage and in the rare (I think), event of an EMP, it might just give them the extra degree of protection they need to survive.
Has anyone else given any thought to EMP protection?